Indulging in a relaxing and rejuvenating bath is one of life's simple pleasures. Bath products play a crucial role in creating a luxurious bathing experience, and Rituals is a fantastic online platform where you can find an array of exquisite bath products. Rituals offer an extensive collection of bath products to enhance your bathing ritual. From nourishing bath oils and foaming shower gels to aromatic bath salts and body scrubs, there is something for every preference and need. These best baby bath products are meticulously crafted with high-quality ingredients, ensuring a pampering experience that nourishes both the body and soul.
Benefits of Using Bath Products
Using bath products not only elevates the sensory experience of bathing but also provides several benefits for the skin and overall well-being. Bath oils, for instance, moisturize and soften the skin, leaving it supple and hydrated. They also promote relaxation and can help alleviate stress and tension. Foaming shower gels, on the other hand, offer a gentle cleanse while enveloping you in a fragrant lather, leaving your skin refreshed and lightly scented.
Bath salts are another popular choice, known for their therapeutic properties. They can help detoxify the body, soothe sore muscles, and promote relaxation. Body scrubs, with their exfoliating properties, slough away dead skin cells, leaving the skin smooth, polished, and rejuvenated. These are just a few examples of the benefits that bath products can provide, turning an ordinary bath into a truly luxurious and transformative experience.
Here is a list of the top 5 Bath Products on Rituals 
1. The Ritual Of Ayurveda Bath Foam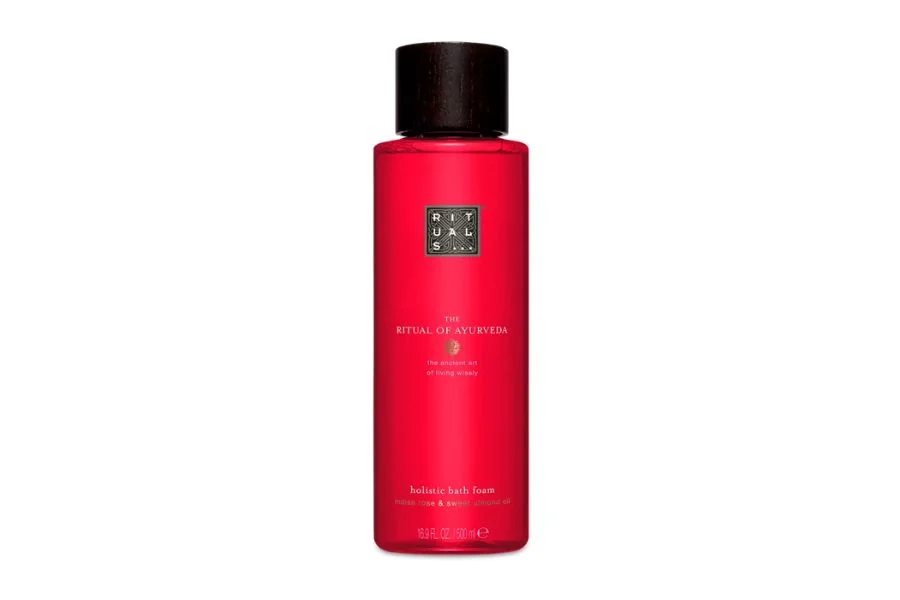 The Ritual of Ayurveda Bath Foam is a true embodiment of luxury bathing products, designed to transport you into a realm of indulgence and relaxation. Infused with the wisdom of ancient Ayurvedic traditions, this bath foam combines a harmonious blend of ingredients that pamper your senses and nourish your skin.
As you immerse yourself in the warm, velvety bubbles of this exquisite bath foam, you'll be enveloped by a soothing aroma that instantly calms your mind. The luxurious formula is enriched with the natural goodness of Indian rose and Himalayan honey, known for their hydrating and rejuvenating properties. The delicate floral scent of the rose uplifts your spirits, while the honey provides deep moisturization, leaving your skin soft, supple, and glowing with radiance.
2. The Ritual Of Jing Magnesium Bath Crystals
The Ritual of Jing Magnesium Bath Crystals is a true indulgence for those seeking ultimate relaxation and rejuvenation in their bathing routine. These luxurious bath crystals are meticulously crafted to provide a blissful experience that transports you to a world of tranquillity and serenity. Infused with the essence of ancient Chinese wisdom and modern scientific knowledge, The Ritual of Jing Magnesium Bath Crystals offer a remarkable blend of holistic well-being and opulent self-care.
The magnificent fragrance of these crystals instantly envelops your senses, creating a soothing ambience that sets the stage for a truly lavish bathing experience. As you immerse yourself in the warm, inviting water infused with these bath crystals, you can feel the stress and tension melt away from your body and mind. 
The rich concentration of magnesium in the crystals promotes muscle relaxation and soothes tired limbs, leaving you feeling rejuvenated and revitalized. The luxurious blend of ingredients nourishes your skin, enveloping it in a veil of softness and leaving it delicately scented with a touch of pure indulgence.
3. The Ritual Of Mehr 2-Phase Bath Oil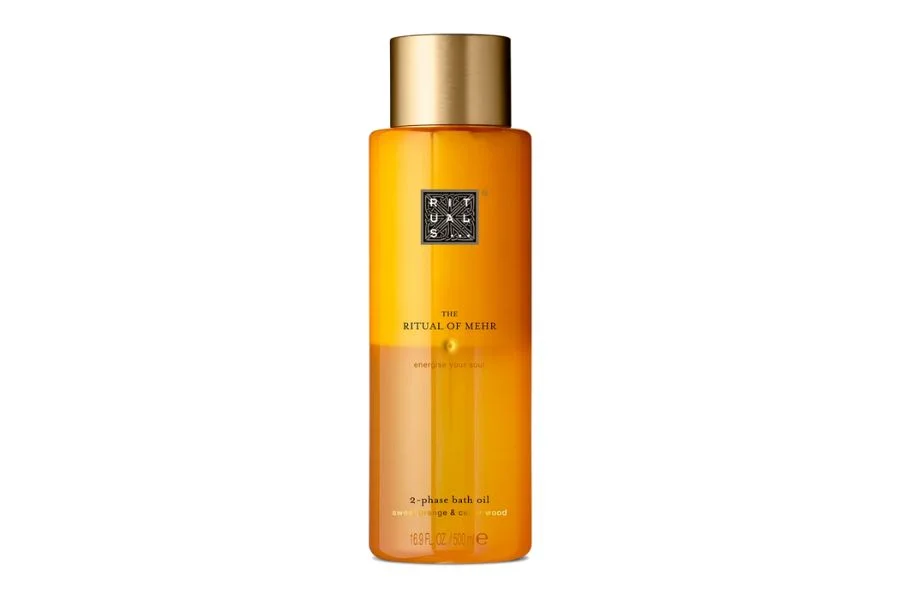 The Ritual Of Mehr 2-Phase Bath Oil is a captivating addition to the world of luxury bathing products. Crafted with utmost care and precision, this exquisite bath oil provides an indulgent and rejuvenating bathing experience like no other. The unique formulation of the Ritual Of Mehr 2-Phase Bath Oil combines the nourishing benefits of two distinct phases, blending them seamlessly to create a harmonious sensory journey.
With every use, the Ritual Of Mehr 2-Phase Bath Oil envelops your senses in opulence and relaxation. As you pour the oil into your bath, you will witness the mesmerizing fusion of two phases—water and oil—creating a visually stunning spectacle. The luxurious blend of essential oils and natural ingredients within the bath oil works harmoniously to moisturize and replenish your skin, leaving it feeling silky-smooth and deeply hydrated.
4. The Ritual Of Jing Bath Foam
The Ritual Of Jing Bath Foam is a truly indulgent addition to your bathing ritual, designed to transform your ordinary bath into a luxurious and serene experience. As one of the exceptional offerings from the renowned brand specializing in luxury bathing products, The Ritual Of Jing Bath Foam encapsulates the essence of tranquillity and relaxation.
Immerse yourself in a cloud of opulence as you pour the rich and creamy foam into your bathwater, releasing its delicate fragrance and enveloping your senses in a cocoon of bliss. Crafted with the utmost care and attention to detail, this bath foam is infused with the finest ingredients known for their nourishing and moisturizing properties. With every use, your skin is pampered and rejuvenated, leaving it feeling silky-smooth and irresistibly touchable.
5. The Ritual Of Sakura Bath Foam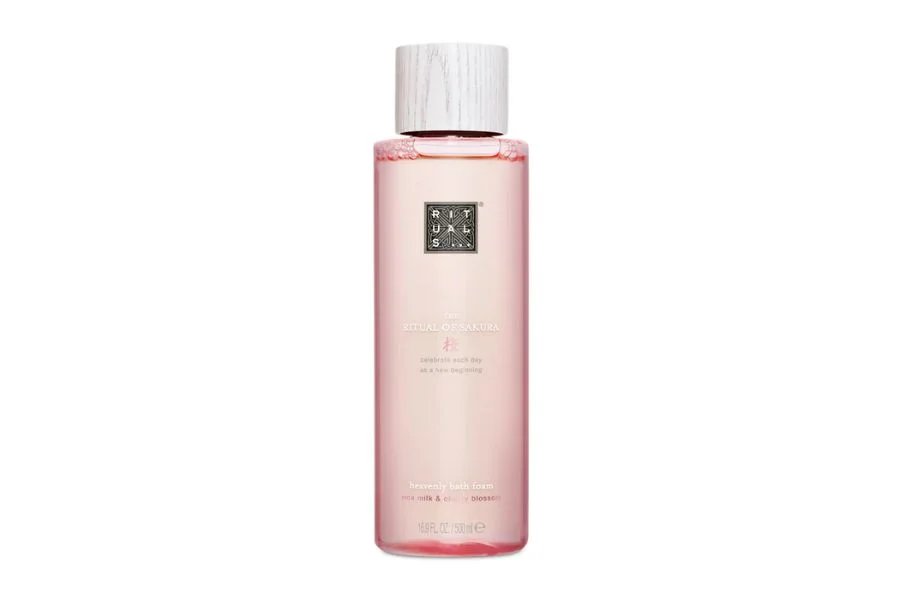 The Ritual of Sakura Bath Foam is an exquisite offering from the renowned brand known for its indulgent and luxurious bathing products. This enchanting bath foam is designed to transform your bathing experience into a pampering ritual that nourishes both the body and the mind. With its delicate fragrance and velvety texture, the Ritual of Sakura Bath Foam envelops you in a cloud of serenity and tranquillity, making each soak a moment of pure bliss.
Immerse yourself in a luxury sea with the Ritual of Sakura Bath Foam. Infused with the essence of cherry blossoms, this opulent foam gently cleanses and softens the skin, leaving it feeling refreshed and rejuvenated. As you indulge in the fragrant bubbles, the exquisite blend of organic rice milk and antioxidant-rich cherry blossom extract nourishes and moisturizes your skin, enhancing its natural radiance. The delicate floral aroma lingers on your skin, evoking a sense of calm and relaxation long after your bathing ritual is complete.
Conclusion
Bath products are essential for creating a luxurious and transformative bathing experience. Rituals excel in providing a wide range of high-quality bath products that cater to various preferences and needs. With its commitment to quality, sustainability, and meaningful rituals, Rituals has established itself as the ultimate destination for bath enthusiasts. Explore their collection, indulge in self-care, and elevate your bathing rituals with the exquisite bath products available on Rituals. For more information, visit Thesinstyle.
FAQs
[/su_spoiler]