A bed is not just a place to sleep; it is a central piece of furniture that sets the tone for your bedroom décor. When it comes to choosing a bed, it's important to consider both style and functionality. That's where beds with headboards come into play. Not only do they add an element of elegance and sophistication to your bedroom, but they also offer additional storage options to help you keep your space organized and clutter-free. In this article, we will explore two types of beds with headboards that take functionality to the next level: beds with headboard storage and drawer beds with headboards.
Beds with headboard storage are designed to maximize the use of space in your bedroom. The headboard serves a dual purpose by providing a stylish backdrop and incorporating storage compartments. These compartments can be in the form of shelves, cubbies, or hidden drawers, allowing you to conveniently store and access your essentials right by your bedside.
Drawer beds with headboards are an excellent choice if you require even more storage space. These beds feature built-in drawers within the base or footboard of the bed, providing ample storage for extra linens, blankets, clothing, or any other items you may want to keep tucked away. The headboard of these beds often incorporates additional shelves or compartments, offering even more storage possibilities.
Here are top options to choose from:
Lit Emma Select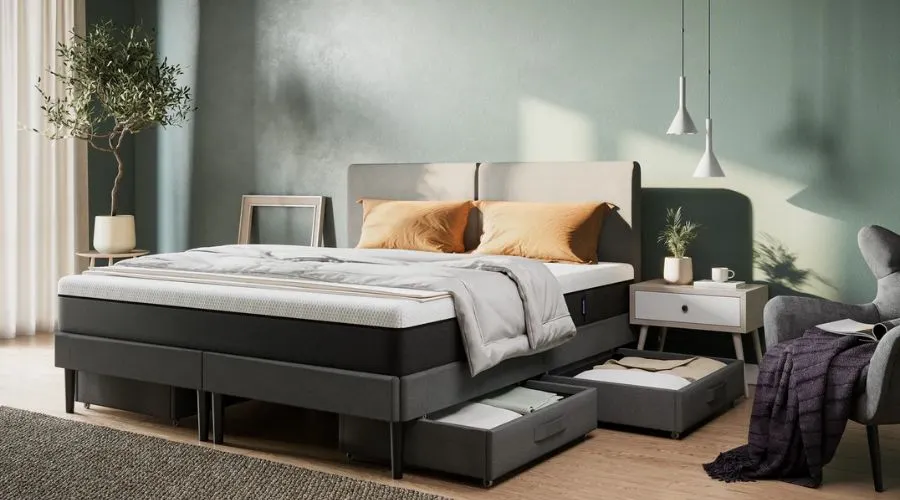 The Emma Select mattress provides optimal support and ideal breathability for a restful sleep experience. It offers customizable design options with six different combinations, allowing you to personalize your sleeping space according to your preferences. The mattress is crafted with certified high-quality materials, ensuring its durability and performance. With a 5-year warranty, it is designed to last, providing you with peace of mind. Trust Emma Select to deliver exceptional support, optimal breathability, and a customizable design, all backed by quality materials and a 5-year warranty for a superior and long-lasting sleep experience.
---
Le Lit Tiroir
The Drawer Bed offers a timeless minimalist design that seamlessly fits into any decor style. It provides optimal storage space with up to 4 built-in drawers, offering a practical solution to organize your belongings and maximize the use of space in your bedroom. Additionally, this bed is fully configurable to your preferences, allowing you to choose whether to install it with or without a headboard, enabling you to create the desired look for your sleeping space. The bed includes a slatted base made of birch wood and a beech wood frame, ensuring sturdy and durable support for your mattress. With the Drawer Bed, you enjoy an elegant design, convenient storage, and superior sleep comfort with its high-quality slatted base.
---
Lit Coffre
The Ottoman Bed offers a maximum storage capacity, allowing you to gain an additional 3 square meters of space in your bedroom. It provides ample room to store items such as bedding, pillows, and seasonal clothing, helping you keep your living space organized and clutter-free. The bed also ensures optimal support and comfort for your mattress, allowing you to enjoy a restful night's sleep. Additionally, the Ottoman Bed is highly customizable to suit your preferences and style, offering a wide range of design options and finishes to match your taste and complement your bedroom decor. Experience the convenience of the Ottoman Bed, where storage meets comfort, all while adding a personalized touch to your sleeping space.
---
Ensemble Confort Hôtelier Coffre
The Hotel Comfort Storage Set offers the perfect combination of the Ottoman Bed and Premium Spring Mattress, inspired by the luxury hotel industry. With a height of 66cm, it provides a five-star level of comfort. Not only does it prioritize comfort, but it also maximizes storage space with a capacity of up to 640 liters, allowing you to neatly store your belongings. The extra-practical storage system ensures easy access. Paired with the Premium Spring Mattress, which offers exceptional support and comfort, this set delivers a luxurious and functional sleep experience that rivals top-tier hotels.
---
Lit Bois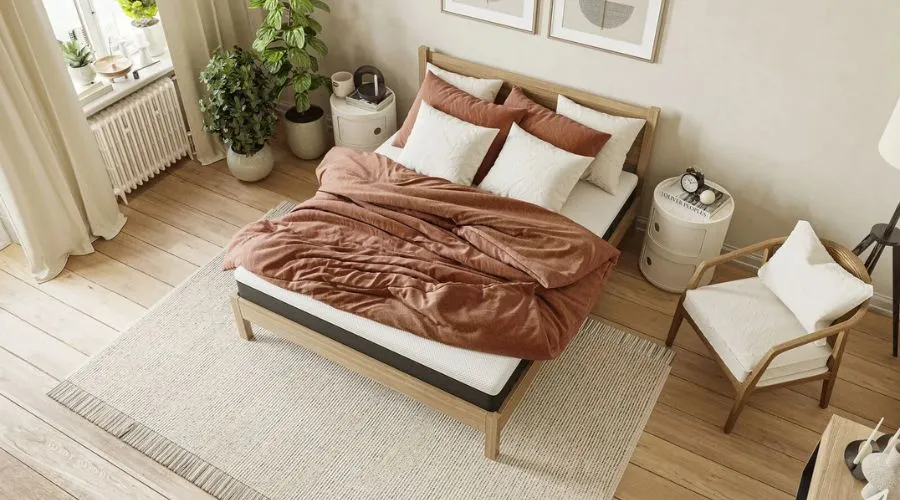 The Wood Bed features a natural Oak finish, adding a touch of elegance to your bedroom decor. Crafted with a clever design, it offers both durability and a silent sleeping experience. The wood used in this bed is responsibly sourced from Europe, ensuring an eco-friendly choice. Moreover, the origin of the wood is certified, guaranteeing its sustainability and promoting responsible forestry practices. With the Wood Bed, you can enjoy the beauty of natural wood while making an environmentally conscious choice for your bedroom furniture.
---
Conclusion:
In conclusion, beds with headboards provide a perfect balance between style and functionality. Whether you opt for a bed with headboard storage compartments or a drawer bed with a headboard, these innovative designs offer practical solutions to keep your bedroom organized while adding a touch of elegance to your space. Consider investing in a bed with a headboard and experience the convenience and beauty it brings to your bedroom. For more information, visit thesinstyle.
FAQ's