When it comes to furnishing your living space, finding the right balance between style and functionality is key. And if you're searching for a versatile piece of furniture that offers both comfort and flexibility, look no further than the Emma FR Convertible Sofa. Designed with modern living in mind, this sofa seamlessly transforms from a stylish seating option to a comfortable bed, making it a perfect choice for small apartments, guest rooms, or any space where optimizing functionality is paramount.
This convertible sofa combines sleek aesthetics with practicality, creating a versatile solution that effortlessly adapts to your changing needs. Crafted with attention to detail and using high-quality materials, this sofa offers exceptional comfort and durability, ensuring it will be a staple in your home for years to come.
But it's not just about its functionality—this sofa also adds a touch of contemporary elegance to any room. Its clean lines, smooth upholstery, and understated design make it a seamless fit into various interior styles, from minimalist to modern and everything in between. Whether you're entertaining guests, relaxing with a book, or enjoying a movie night, this sofa effortlessly blends into your decor while providing the comfort you desire.
With the Emma FR Convertible Sofa, you no longer have to sacrifice style for functionality or compromise on space. It's time to experience the convenience of a sofa that effortlessly converts into a bed, allowing you to make the most of your living area without compromising on comfort or design. 
Features of Emma Convertible Sofa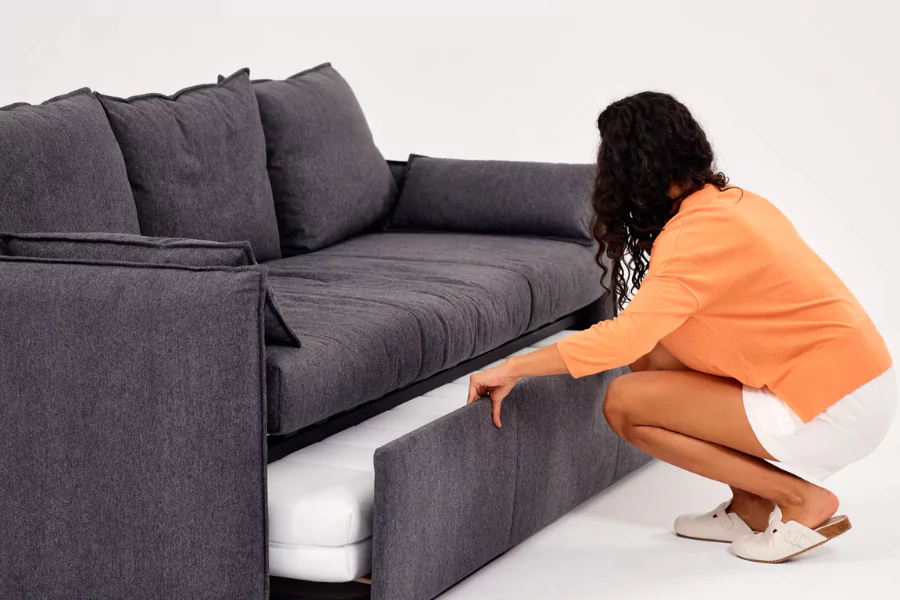 The Emma Convertible Sofa offers a range of impressive features that enhance its versatility, comfort, and overall appeal. Here are some key features of the Emma Convertible Sofa:
1. Convertible Design
The standout feature of the Emma Convertible Sofa is its ability to transform effortlessly from a stylish sofa to a comfortable bed. This convertible design allows you to optimize your space and adapt to different needs, making it ideal for small apartments, guest rooms, or any area where space is limited.
2. Easy Conversion Mechanism: 
The sofa-to-bed conversion process is smooth and user-friendly. With a simple adjustment, the backrest folds down to create a flat sleeping surface. This hassle-free mechanism ensures quick and convenient transitions between sofa and bed configurations.
3. Quality Construction: 
The Emma Convertible Sofa is crafted with meticulous attention to detail and high-quality materials. The sturdy frame provides stability and durability, ensuring long-lasting use. Additionally, the upholstery is designed to withstand daily wear and tear, maintaining its beauty and comfort over time.
4. Comfortable Seating: 
The sofa features generous padding and cushioning, offering a comfortable seating experience. Whether you're lounging, reading a book, or watching TV, the plush cushions provide excellent support and cosiness.
5. Stylish Design: 
The Emma Convertible Sofa showcases a modern and elegant design that complements various interior styles. Its clean lines, sleek silhouette, and premium upholstery create a chic and sophisticated aesthetic that elevates any living space.
6. Versatile Color Options: 
The sofa is available in a range of versatile colour options, allowing you to choose the one that best suits your personal style and existing decor. Whether you prefer neutral tones for a timeless look or bold hues for a statement piece, there's a colour option to match your preferences.
7. Space-Saving Solution: 
The convertible design of the Emma Sofa makes it an excellent space-saving solution. By serving as both a sofa and a bed, it eliminates the need for separate pieces of furniture, maximizing the utility of your living area.
Experience the convenience, comfort, and style of the Emma Convertible Sofa. With its impressive features and thoughtful design, it's a versatile and stylish addition to any home.
Additional offers and deals on Emma Convertible Sofa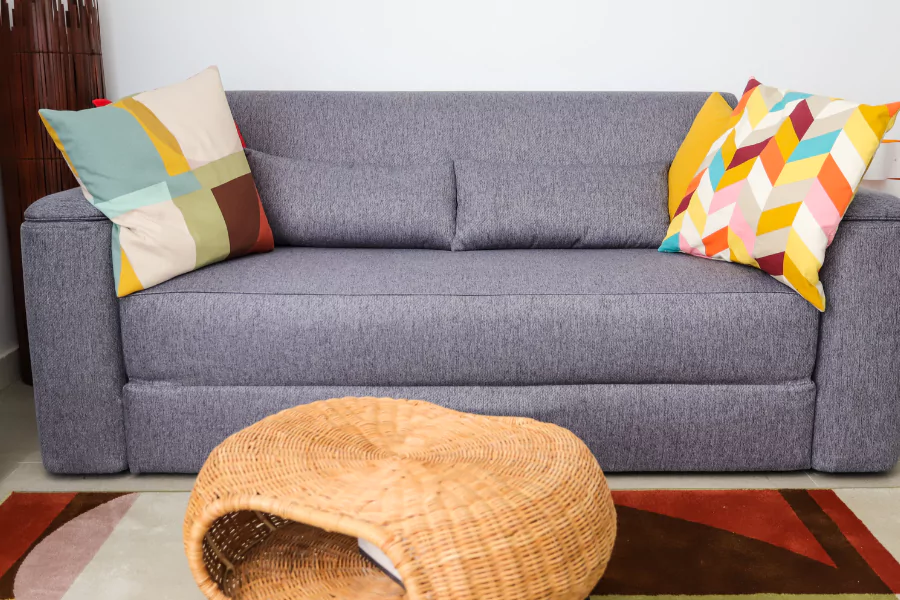 In addition to its outstanding features, the Emma Convertible Sofa from Emma FR comes with several offers and deals to enhance your purchasing experience. Here are some additional benefits you can expect:
1. Warranty Protection: 
The Emma FR company offers a warranty on the Emma Convertible Sofa. This guarantee assures that you get a high-quality product and covers manufacturing flaws. Knowing that your investment is secure gives you peace of mind. The guarantee lasts for five years. 
2. Flexible Return Policy: 
Emma FR understands that customer satisfaction is crucial. If, for any reason, you're not completely satisfied with your purchase, they offer a flexible return policy. You can contact their customer service team to initiate the return process and receive assistance throughout. 
3. Competitive Pricing: 
Emma FR strives to offer competitive pricing for their products, including the Emma Convertible Sofa. They aim to provide value for money while maintaining the highest standards of quality and design. You can enjoy the benefits of a versatile and stylish piece of furniture at an affordable price.
4. Promotional Offers: 
Keep an eye out for promotional offers and discounts on the convertible floor sleeper sofa. Emma FR occasionally runs special promotions, such as seasonal sales or limited-time discounts, which allow you to save even more on your purchase.
5. Customer Support: 
Emma FR prides itself on excellent customer support. If you have any questions, or concerns, or require assistance with your purchase, their knowledgeable and friendly customer service team is ready to help. They can provide product information, address inquiries about warranties or returns, and ensure a smooth buying experience.
6. 100 nights trial: 
You can try their convertible sofa for 100 nights, while you make up your own mind. If you are not satisfied, you can return it. With warranty protection, a flexible return policy, competitive pricing, promotional offers, and dedicated customer support, Emma FR goes the extra mile to ensure your satisfaction with the Emma Convertible Sofa Bed. Take advantage of these additional benefits and enjoy a worry-free shopping experience.
Conclusion 
This convertible sofa bed from Emma FR offers a perfect combination of style, comfort, and functionality. Its sleek design, premium materials, and thoughtful features make it a versatile piece of furniture that can transform any space. Whether you need a cosy sofa for everyday use or an extra sleeping surface for guests, the Emma Convertible Sofa delivers. For more information visit the official website of Thesinstyle.
FAQs