Linux-based systems have gained a reputation as threat-immune systems. While they can be more secure than other operating systems, they are also found to be vulnerable to malware attacks, especially due to the recent surge in attacks due to web shells, ransomware, coin miners, and trojans. It is the reason why Linux computers also need antivirus protection as much as other computers. Now, the question that arises is, what is the best antivirus for Linux? The decision is difficult. The answer may vary depending on how and for what purpose you use your device – whether for personal use, business, file server, or any other purpose. This article will discuss the best Linux antivirus from the marketplace.

Does linux need antivirus?



Linux is a powerful platform that serves as the base for everything digital – web host servers, cloud servers, web applications, and smart systems. Despite being so powerful, many end-users may find it tough to get the right antivirus software to protect their systems from online threats. If you are from those users, there is no need to worry. Because this article contains answers.
---
Best Linux antivirus available in the market
The best Linux antivirus currently available in the market is Surfshark antivirus software. Surfshark brings VPN service and antivirus protection together to offer optimum protection. Let's see about it in detail. 
Surfshark Antivirus 
The antivirus program by Surfshark is user-friendly with cross-platform support and is a secure Linux antivirus. This software offers protection to your Linux computers against spyware, viruses, adware, malware, and zero-day attacks. It also ensures the user's security while browsing the web and can even tell if personal information is leaked. 
Surfshark antivirus features for Linux computers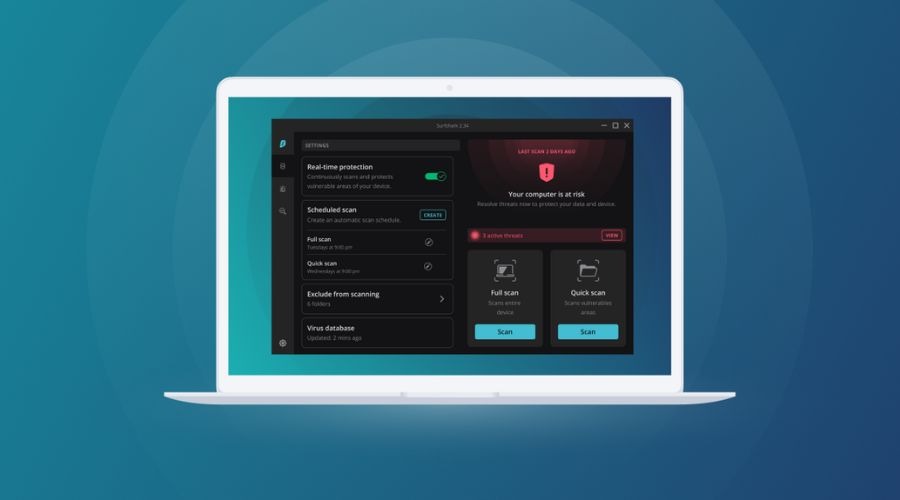 Surfshark is rightly called the best Linux antivirus because of the following features that it has:
Scanning 
Surfshark performs a quick scan daily on your Linux operating system as with any other antivirus. The clean interface shows the scanned areas and the time elapsed on the right. And the possible threats are shown on the left. 
You can also schedule the scans of specific files and folders. This comes in handy when you forget to perform regular scans.
2. Real-time protection
The best Linux antivirus software Surfshark lets you use the internet in real-time protection. How? The software remembers and recognises phishing sites, viruses, and web threats and blocks them to prevent any harm to the system. All this happens simultaneously when you are browsing the web without hogging resources. 
---
Surfshark Linux benefits 
There are many benefits offered by Surfshark to Linux computers. The following are just some of them:
Unlimited devices
How many devices can a single account access? It is a concern for VPN providers. Surfshark, with only one subscription, allows you to connect many devices. It becomes easy to secure all Linux devices. 
2. No-logs policy
The whole point of using a platform like Surfshark for your Linux device is to ensure privacy, which is impossible if the VPN provider keeps your track. With the airtight no-logs policy of Surfshark, no one can breach your privacy. You also get an added security layer because of the 100% RAM server of the platform. 
3. encryption
Linux systems are also vulnerable to spies on the internet. The top encrypted Linux antivirus like Surfshark does not disclose your traffic to spies on the net. The encryption offered by the platform is military-grade AES-256-GCM, which has high speed and is non-breakable. 
4. WireGuard on Linux
Surfshark offers WireGuard Protocol on Linux. The protocol has become the talk of the town because of its lighting speed. It uses cryptography so well that you need not worry about security. 
5. Give the terminal a break with a GUI
The Surfshark Linux app has a genuine graphical user interface. Through this, you can connect your device to the fastest nearby browser, label your favourite browsers, and browse through the server's list without entering the terminal. 
---
Installing Surfshark on your Linux computer
You must follow the following steps to ensure the installation of Surfshark on your Linux system:
Install the Application

Updating application
Surfshark always looks for updates automatically. However, you can also check it manually.
Connect VPN
Now connect the application to a VPN server of your choice by using the Quick Connect feature. 
Use additional features like CleanWeb that block all the ads and keep your device safe, making the platform the best Linux antivirus.

At last, check whether the installation was successful.




---
Conclusion
You may find yourself in a dilemma when choosing the best Linux antivirus for your computer, which is very normal. This article clears your doubts regarding antivirus and also suggests the best in town. With such an antivirus, you can rest assured that your system is safe. The best Linux antivirus Surfshark surely is praiseworthy for its dedication to protecting personal information and user-friendly apps.  
The antivirus combined with VPN is a comprehensive yet affordable security solution. To get more information on the topic, you may visit TheSinstyle.
FAQ's