A woman's pregnancy is a miraculous and transformational time. As her body undergoes numerous changes, it becomes essential for her to find comfortable yet stylish clothing that accommodates her growing belly. Dorothy Perkins, a renowned fashion brand, understands the needs of expectant mothers and offers a wide range of maternity tops to help them feel confident and fashionable throughout their pregnancy journey.
Benefits of Dorothy Perkins Maternity Tops:
Comfort: The maternity tops from Dorothy Perkins prioritise comfort and ensure that pregnant women can move freely without feeling constricted.
Style: With their fashionable designs and trendy options, Dorothy Perkins allows expecting mothers to maintain their personal style and feel confident throughout their pregnancy.
Versatility: The wide range of designs and styles available ensures that maternity scrub tops from Dorothy Perkins can be worn for various occasions, from casual outings to formal events.
Durability: The high-quality materials used in the construction of Dorothy Perkins' maternity tops ensure their longevity, allowing women to wear them throughout their pregnancy and beyond.
Affordability: Dorothy Perkins offers affordable options within their maternity tops collection, making it accessible to a wide range of expectant mothers.
List of top 5 maternity tops from Dorothy Perkins that you don't want to miss:
1. Button Cuff Roll Neck Jumper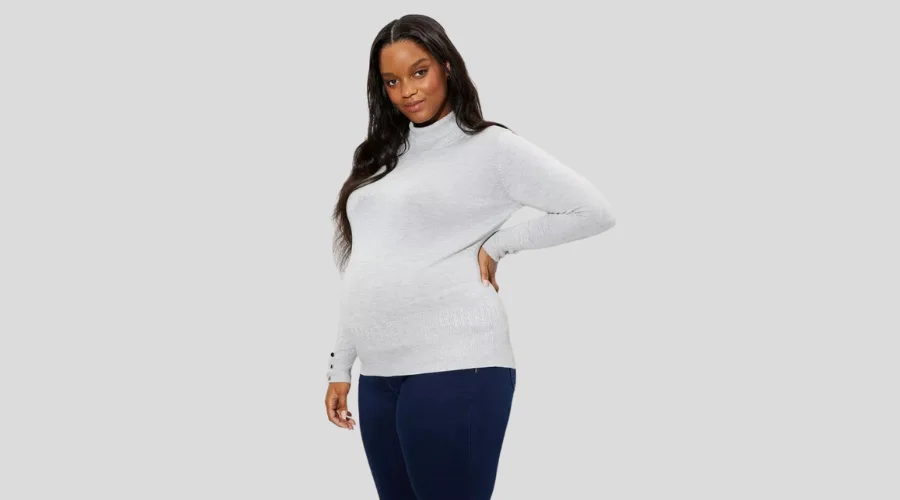 The Maternity Button Cuff Roll Neck Jumper is thoughtfully designed to accommodate the changing shape of a pregnant woman's body while ensuring utmost comfort. This jumper is tailored to cater to the needs of pregnant women, with an emphasis on accommodating a growing belly. The design takes into consideration the expansion of the midsection, ensuring ample room and stretchability.
The jumper features a roll neck, which not only adds a touch of sophistication to the overall design but also provides additional warmth during colder months. The roll neck can be rolled down for a relaxed and casual look or pulled up to shield the neck from chilly weather.
The button cuff detail adds a stylish element to the jumper, elevating its overall aesthetic appeal. Additionally, the button cuffs allow for adjustable sleeve length, accommodating different arm lengths and personal preferences.
2. Roll Sleeve Cotton Jersey T-Shirt
One of the primary concerns during pregnancy is finding clothing that offers optimal comfort. The maternity roll sleeve cotton jersey t-shirt addresses this need by combining soft and breathable fabric with a loose and relaxed fit. 
The cotton jersey material ensures breathability, allowing air circulation and preventing overheating, a common discomfort during pregnancy. Additionally, the fabric provides stretchability, allowing the t-shirt to adapt to the growing belly, accommodating the changing shape throughout the various stages of pregnancy.
While comfort is paramount, pregnant women also want to maintain their personal style during this transformative period. The maternity roll sleeve cotton jersey t-shirt offers a perfect balance between comfort and style. The roll sleeve design adds a fashionable touch, allowing the sleeves to be rolled up or down, depending on personal preference.
3. Stripe Roll Sleeve T Shirt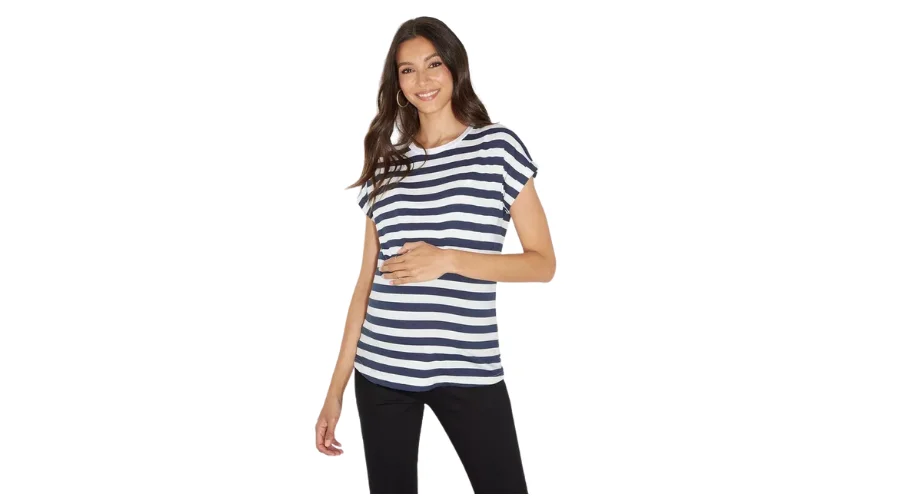 Maternity tops, including the stripe roll sleeve t-shirt, are typically made from soft and stretchy fabrics such as cotton or a blend of cotton and spandex. These fabrics provide breathability and allow the t-shirt to accommodate a growing belly without feeling restrictive.
The stripe pattern on the t-shirt adds a touch of sophistication and timeless style to the overall look. The stripes can be either horizontal or vertical, with varying widths and color combinations, allowing pregnant women to choose a design that suits their personal taste.
The roll sleeve feature of the t-shirt adds a casual and relaxed vibe to the overall design. It provides a practical solution for adjusting the sleeve length based on weather conditions or personal preference, making it suitable for different seasons.
4. Lace Shoulder Sweatshirt
Maternity tops, such as the lace shoulder sweatshirt, prioritise comfort without compromising style. Crafted from soft and stretchy fabrics, these tops provide a comfortable fit that accommodates the growing baby bump. The sweatshirt's loose and relaxed silhouette allows for easy movement, making it ideal for everyday wear or light exercise. Additionally, the incorporation of lace detailing on the shoulders adds a touch of femininity and elevates the overall aesthetic.
Maternity lace shoulder sweatshirts are designed to be versatile and adaptable to various occasions. They effortlessly transition from casual to semi-formal settings, making them suitable for work, social gatherings, or even cosy nights at home. 
The lace shoulder detailing adds an element of elegance, making the sweatshirt more than just a basic maternity top. Whether paired with jeans, leggings, or a skirt, the sweatshirt offers endless styling possibilities and can be accessorised to suit individual tastes.
5. Animal Roll Sleeve T Shirt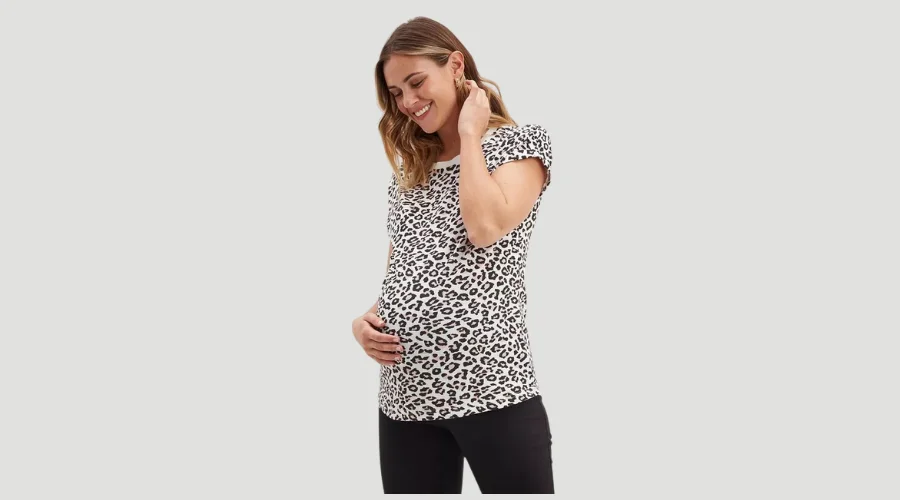 Maternity tops, particularly the animal roll sleeve t-shirt, prioritise comfort without compromising style. These tops are thoughtfully designed to accommodate the growing baby bump, providing ample room for movement and expansion. 
They are crafted from soft and breathable fabrics, such as cotton or modal blends, which allow the skin to breathe and prevent irritation. The loose-fitting nature of the animal roll sleeve t-shirt ensures freedom of movement and minimises any restrictions on the pregnant body, making it an ideal choice for everyday wear.
Furthermore, the animal roll sleeve t-shirt often features a stretchy material that adapts to the changing shape of the body throughout pregnancy. This elasticity allows the garment to grow with the bump, ensuring a comfortable fit at every stage. Additionally, the roll sleeves provide added versatility, allowing women to adjust the length of the sleeves based on their preferences and changing weather conditions.
Conclusion
In conclusion, Dorothy Perkins understands that fashion is not limited to non-pregnant women, and pregnancy should not be a barrier to style. Their maternity tops collection embraces the latest fashion trends, ensuring that expectant mothers can stay fashionable and express their personal style throughout their pregnancy. For more information, visit Thesinstyle.
FAQs