A good night's sleep is paramount for overall well-being, and one crucial element that can significantly enhance the sleeping experience is a high-quality mattress topper. Among the wide range of options available in the market, the Reversible Mattress Topper by Emma stands out as an exceptional choice. Designed with both comfort and versatility in mind, this innovative product offers an array of benefits that cater to the diverse needs of sleepers. The Reversible Mattress Topper by Emma excels in providing an unparalleled level of comfort. Crafted with premium materials, it delivers a luxurious feel that instantly transforms any mattress into a cosy oasis. The topper is ingeniously designed with a dual-sided feature, allowing users to choose between two distinct levels of comfort. Whether one prefers a softer or firmer surface, the reversible design caters to individual preferences, ensuring a personalised and restful sleep experience.
Features of Reversible mattress topper by Emma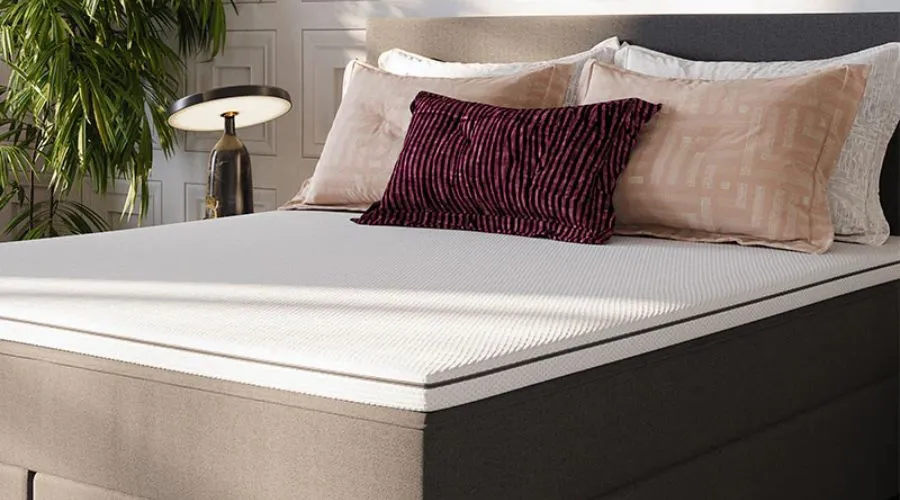 Many sleepers struggle with pressure points and improper spinal alignment, leading to discomfort and disrupted sleep. The Reversible Mattress Topper by Emma addresses these issues effectively. 
The topper employs a strategic combination of memory foam and other supportive materials that conform to the body's contours, alleviating pressure and evenly distributing weight. Consequently, it enhances spinal alignment, reducing the likelihood of waking up with aches and pains and promoting a refreshed feeling in the morning.
Emma's Reversible Mattress Topper boasts exceptional durability, ensuring long-lasting comfort for years to come. The high-quality materials and meticulous craftsmanship result in a product that withstands regular use without losing its shape or support. 
Furthermore, maintaining the topper's cleanliness is effortless, as it is designed to be hypoallergenic and resistant to dust mites. Users can easily remove and clean the topper, ensuring a hygienic sleeping environment.
How easy is it to clean and maintain a reversible mattress topper?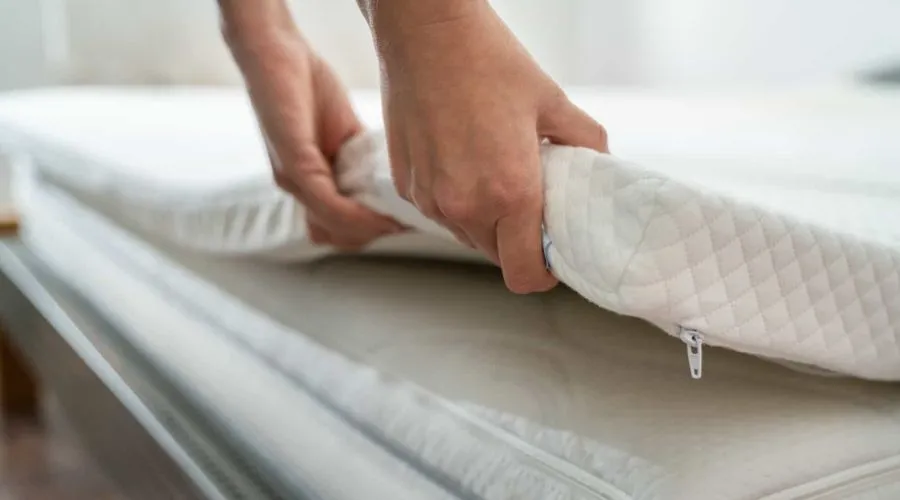 In general, reversible mattress toppers are designed to be relatively easy to clean and maintain. Here are some factors to consider:
Removability
Many reversible mattress toppers come with a removable cover or top layer that can be easily detached for cleaning. This allows for convenient washing and prevents the need to clean the entire topper.
Machine washable
Some reversible mattress toppers, particularly those with removable covers, can be machine washed. It is important to check the care instructions provided by the manufacturer to determine if machine washing is recommended and to follow the specific guidelines for water temperature, detergent, and other considerations.
Spot cleaning
For reversible mattress toppers that cannot be machine washed, spot cleaning may be recommended. This involves treating specific stains or spills using a mild detergent or a stain remover. It is crucial to follow the instructions provided by the manufacturer to avoid damaging the topper.
Air drying
Reversible mattress toppers are typically air-dried rather than tumble-dried to maintain their shape and integrity. The manufacturer's instructions should indicate whether air drying is suitable or if there are any specific recommendations for the drying process.
Regular maintenance
To keep a reversible mattress topper in good condition, it is advisable to follow a regular maintenance routine. This may include shaking or fluffing the topper periodically to restore its loft and evenness, as well as rotating or flipping the topper to distribute wear and pressure evenly.
Protective measures
Using a mattress protector or pad underneath the reversible mattress topper can help prevent stains, spills, and dirt from reaching the topper directly. This can make the cleaning process easier and protect the longevity of the topper.
Reversible mattress topper
A reversible mattress topper is a type of bedding accessory that is designed to enhance the comfort and support of your mattress. It is called "reversible" because it can be used on either side, allowing you to choose between different sleeping surfaces and adjust the level of comfort to your preference. This versatile feature makes it a popular choice for individuals who want flexibility in their sleep experience.
Construction
A reversible mattress topper typically consists of multiple layers of cushioning materials that are encased in a removable cover. The specific construction can vary depending on the brand and model, but common materials used include memory foam, latex foam, fiberfill, or a combination of these. The layers are carefully arranged to provide a balance of softness and support.
---
Some of the Benefits of Reversible Mattress Topper
Enhanced Comfort
By adding a reversible mattress topper to your bed, you can improve the comfort level of your mattress. The cushioning layers help alleviate pressure points, conform to your body's contours, and provide a plush surface to sleep on.
Adjustable Firmness
With a dual-sided design, a reversible mattress topper allows you to adjust the firmness of your sleep surface. If you prefer a softer feel, you can sleep on one side of the topper, and if you prefer a firmer feel, you can flip it to the other side. This flexibility is especially beneficial for couples with different comfort preferences.
Mattress Protection
In addition to enhancing comfort, a reversible mattress topper can also act as a protective layer for your mattress. It helps shield the mattress from stains, spills, and general wear and tear, extending the lifespan of your mattress.
Temperature Regulation
Some reversible mattress toppers are designed with breathable materials or cooling technologies that help regulate body temperature during sleep. These features can be especially beneficial for individuals who tend to sleep hot.
Cost-Effective Solution
Reversible mattress toppers offer an affordable alternative to replacing an entire mattress. If your current mattress is still in good condition but lacks the desired level of comfort, adding a reversible topper can be a cost-effective way to improve your sleep experience.
---
Conclusion
The Reversible Mattress Topper by Emma emerges as an exceptional choice for those seeking optimal comfort and versatility in their sleep experience. Its unique reversible design, superior comfort and support, enhanced airflow and temperature regulation, pressure relief and spinal alignment properties, and durability. For more information, visit Thesinstyle.
FAQs