Welcome to our guide on the top 5 shoe cabinets by Conforama, your go-to destination for stylish and functional furniture. Shoe cabinets are essential for maintaining a tidy and organized entryway or hallway, allowing you to neatly store your footwear collection. With Conforama's reputation for quality and design, we have curated a list of the best shoe cabinets that combine practicality and aesthetics. From sleek and modern designs to spacious storage solutions, these cabinets will not only keep your shoes in order but also elevate the style of your home. Join us as we explore the top 5 shoe cabinets by Conforama, providing you with the perfect solution to keep your shoes in check while adding a touch of elegance to your living space.
Best shoe cabinets
1. Shoe cabinet Tina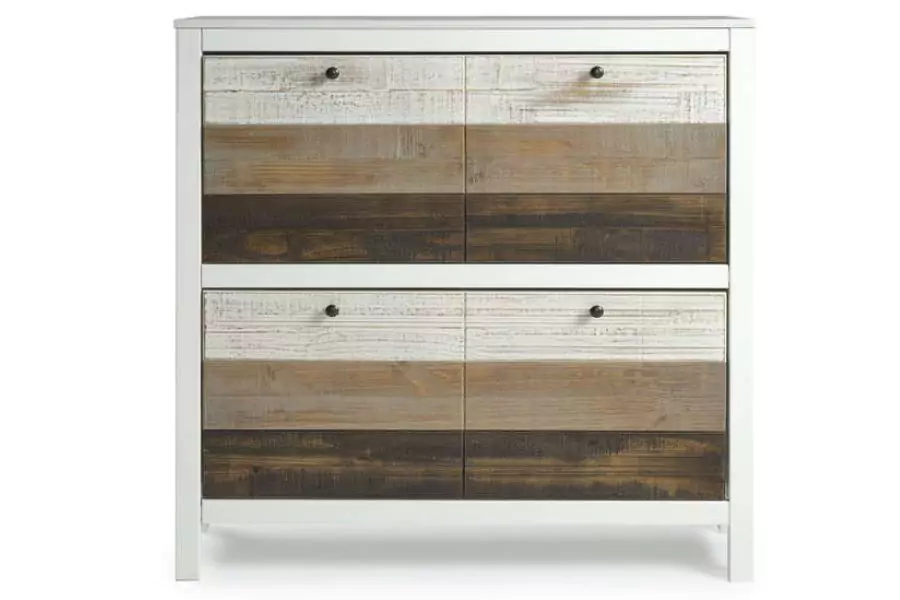 The Shoe Cabinet Tina is a stylish and functional storage solution for your footwear collection. Made from solid pine and MDF, this cabinet is sturdy and durable. Its varnished and stained multicolored white finish adds a touch of elegance to any space. With metal handles for easy access, the cabinet is designed to hold up to 16 pairs of shoes (size 38 without heels and not rising). Keep your shoes organized and your living space clutter-free with the Shoe Cabinet Tina, a perfect addition to any entryway or hallway.
---
2. Shoe cabinet SPACE
Introducing the SPACE Shoe Cabinet, a practical and stylish storage solution for your shoe collection. This contemporary shoe cabinet is offered in Shannon oak, exuding a sophisticated charm that will seamlessly blend with your hallway or cellar decor. With its 1 storage drawer, 2 shelves, and hinged door, this solid piece of furniture can accommodate up to 16 pairs of shoes, keeping them neatly organized and easily accessible. The cabinet features gray epoxy metal handles, adding a modern touch to its overall design. Its compact size of 29.4 cm deep and 100.6 cm high allows for easy installation in various spaces. Discover the SPACE shoe cabinet in the color Vulcano as well, and choose the perfect option to suit your style. With its affordable price and functional design, the SPACE shoe cabinet is a must-have for those seeking efficient shoe storage solutions. Dimensions: Depth: 29.4 cm, Length: 82.6 cm, Height: 100.6 cm.
---
3. Shoe cabinet GLORIA color white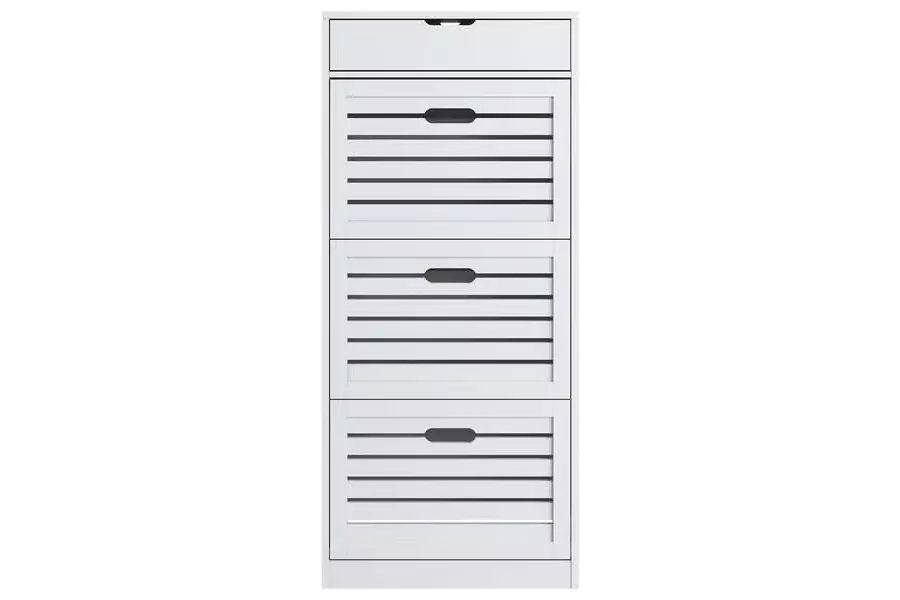 The Shoe Cabinet GLORIA in white offers both practicality and style to enhance your home. With a practical top flap, you can conveniently store odds and ends in addition to your shoes. The cabinet features shutter effect flaps, adding a touch of seaside style to your decor. Its timeless white color ensures versatility and seamless integration into any interior design theme. Stay organized and elevate your space with the Shoe Cabinet GLORIA, a functional and aesthetically pleasing storage solution for your shoe collection.
---
4. Imitation beech shoe cabinet with 3 white doors
This shoe cabinet is designed to save time and optimize space in your home. With its functional, chic, and modern design, it seamlessly fits into any home decor. The stable and robust structure is made of particle wood panels, ensuring durability. The cabinet features three doors and three storage spaces, each opening with a handle for easy access. It has a large storage capacity, accommodating up to 18 pairs of shoes (6 pairs per storage space). The dimensions of the shoe cabinet are 60.5 cm in length, 24.5 cm in width, and 113 cm in height, providing ample storage while being compact enough for various spaces. The shoe rack is designed for sizes up to 41. Easy assembly and the option to fix it to the wall for added stability make this cabinet a convenient choice. Explore our online store for different color options, including the white 3-door shoe cabinet and the white shoe cabinet with 3 gray doors. Discover the full range of shoe cabinets and find the perfect one to suit your needs and style.
---
5. White 3-door shoe cabinet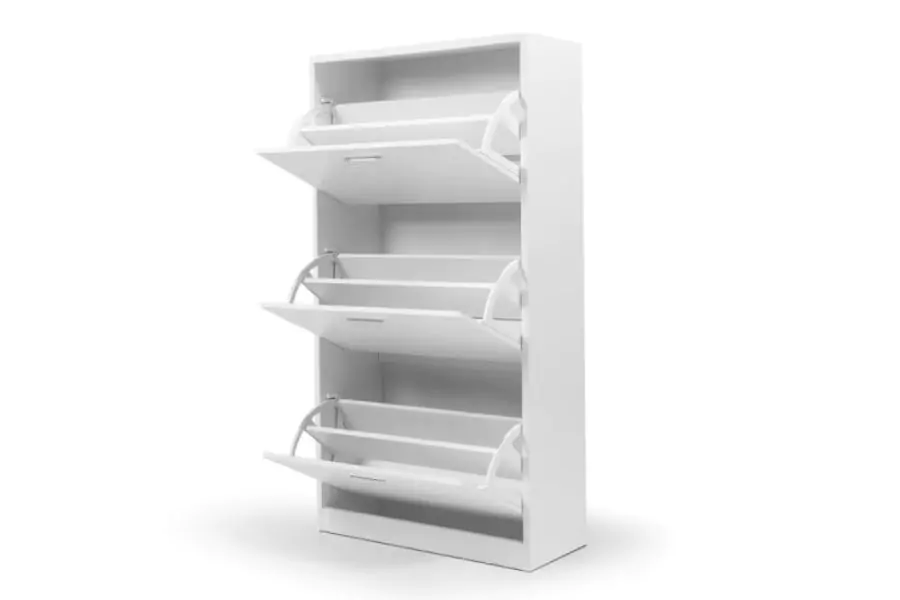 The three doors and storage spaces offer ample room to optimize your home space and neatly store all your shoes. Crafted from a sturdy wood particle board (PB thickness 1.6 cm), this cabinet ensures stability and durability. Each storage space opens effortlessly with the handle, providing easy access to your shoe collection. With a large storage capacity of up to 18 pairs of shoes (6 pairs per storage space), this cabinet keeps your footwear organized and easily accessible. The addition of a board in each storage space separates the pairs of shoes for a modular arrangement. The white 3-door shoe cabinet boasts dimensions of 60.5 cm in length, 24.5 cm in width, and 113 cm in height, offering optimal storage while maintaining a compact footprint. Assembly is simple and mounting it to the wall is recommended for added safety. Discover the dimensions of the doors, storage spaces, and door handles to ensure a perfect fit for your space. This shoe cabinet is designed for shoe sizes up to 41.
---
Conclusion
The top 5 shoe cabinets offered by Conforama provide practical and stylish solutions for organizing your footwear collection. From the spacious and versatile Shoe Cabinet Tina to the contemporary design of the SPACE shoe cabinet, each option offers unique features to suit various needs and preferences. The Shoe Cabinet GLORIA and the Imitation Beech Shoe Cabinet provide functional storage with their multiple doors and storage spaces. Lastly, the White 3-Door Shoe Cabinet combines functionality and a chic design to optimize space in your home. With a range of colors, sizes, and styles, these top 5 shoe cabinets from Conforama ensure that you can find the perfect match for your hallway or entrance while keeping your shoes tidy and accessible. For more information about cheap shoe cabinets or designer shoe cabinets visit Conforama and the official website of Thesinstyle.
FAQ's