When it comes to planning a wedding, every detail matters, and selecting the perfect bridesmaid dresses is no exception. Your bridesmaids play a vital role in your special day, and their attire should reflect your vision while making them feel beautiful and confident. Enter Dorothy Perkins, a renowned fashion brand that offers an exquisite collection of bridesmaid dresses. With their diverse range of styles, colors, and sizes, Dorothy Perkins has become a go-to choice for brides seeking elegance and versatility for their wedding party. In this article, we will explore why Dorothy Perkins is the ideal destination for bridesmaid dresses and how their collection can add an extra touch of glamour to your wedding.
Matching the color palette of your bridesmaid dresses to your wedding theme is essential for creating a cohesive and visually stunning atmosphere. Dorothy Perkins offers an extensive range of colors, allowing you to find the perfect shade to complement your vision. Whether you prefer soft pastels, vibrant jewel tones, or timeless neutrals, their collection offers a spectrum of colors that will suit any wedding style. Moreover, Dorothy Perkins ensures color consistency across their various dress styles, making it effortless to mix and match to create a harmonious look for your bridal party.
List of top bridesmaid dresses to buy from Dorothy Perkins
1. Embellished Strappy Tulle Maxi ​Dress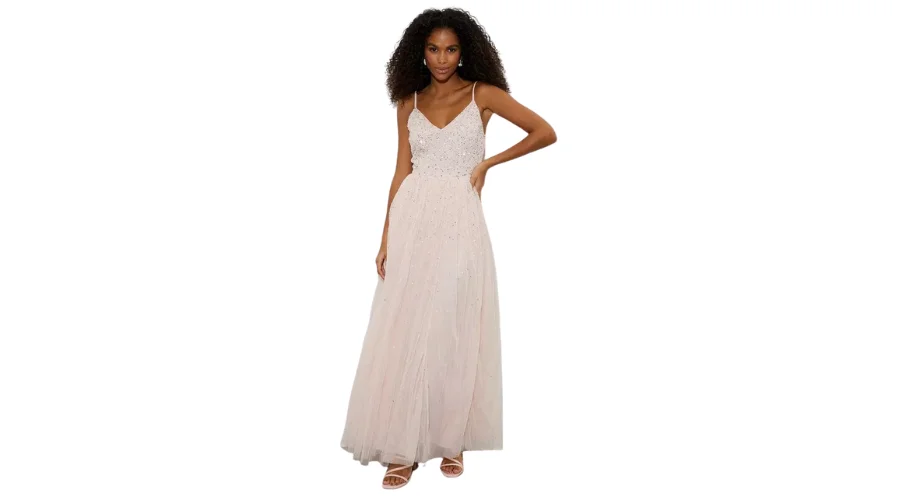 The Embellished Strappy Tulle Maxi Dress is a stunning choice for any bridesmaid. Crafted with exquisite attention to detail, this dress is a true showstopper. The delicate shoulder straps add a touch of elegance, while the embellishments scattered across the tulle fabric create a mesmerizing effect. The maxi length of the dress adds a sense of grace and sophistication, making it perfect for formal wedding ceremonies. The tulle material gives the dress a romantic and ethereal feel, allowing bridesmaids to feel like they're floating on air as they walk down the aisle. Whether in a soft pastel shade or a vibrant hue, this dress is guaranteed to make a memorable impression and complement the bride's gown beautifully. The Embellished Strappy Tulle Maxi Dress is the epitome of timeless charm and will make any bridesmaid feel like a true princess on this special day.
---
2. Satin Cross Waist Chiffon Maxi Dress
The Satin Cross Waist Chiffon Maxi Dress is a captivating choice for any formal occasion. The dress features a satin cross waist design that accentuates the natural curves of the body, creating a flattering silhouette. Made with flowing chiffon fabric, this maxi dress exudes an air of elegance and sophistication. The cross waist detail adds a touch of glamour, while the lightweight chiffon material drapes beautifully, creating a graceful movement with every step. Available in a range of colors, from soft pastels to rich jewel tones, this dress is versatile and can be tailored to match any event's theme or color scheme. Whether attending a wedding, gala, or formal dinner, the Satin Cross Waist Chiffon Maxi Dress is sure to make a lasting impression and leave you feeling effortlessly glamorous.
---
3. Satin Maxi Tie Back Slip Dress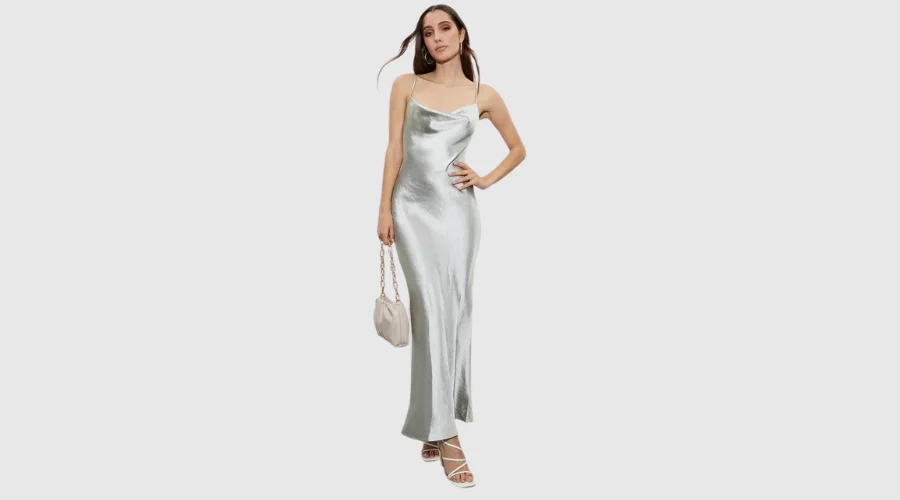 The Satin Maxi Tie Back Slip Dress is a luxurious and alluring choice for bridesmaids seeking a sophisticated and elegant look. Made from smooth satin fabric, this dress exudes a subtle sheen and a soft, silky touch against the skin. The maxi length adds a touch of glamour and creates a flowing, graceful silhouette, perfect for accompanying the bride down the aisle. One of the standout features of this dress is the tie-back detail, which allows for an adjustable and customized fit, while also adding a stylish element to the design. The slip dress style is effortlessly chic, with thin shoulder straps and a relaxed, flattering drape, ensuring that bridesmaids feel comfortable and beautiful throughout the wedding day. Whether you're part of a bridal party, attending a special event, or simply want to elevate your style, the Satin Maxi Tie Back Slip Dress is the perfect choice for bridesmaids looking to exude elegance and enhance the overall bridal aesthetic.
---
4. Petite Angel Sleeve Pleated Chiffon Maxi Dress
The Petite Angel Sleeve Pleated Chiffon Maxi Dress is a dreamy choice for petite bridesmaids seeking a feminine and ethereal look. With delicate angel sleeves and flowing pleated chiffon, this dress creates a romantic silhouette. The maxi length adds elegance, perfect for accompanying the bride. Designed for petite figures, it ensures a flattering fit. The combination of angel sleeves, pleated chiffon, and maxi length creates a captivating and whimsical aesthetic. Whether it's a wedding or a formal event, this dress enhances the bridal party's charm with elegance.
---
5. Square Neck Embellished Pleated Maxi Dress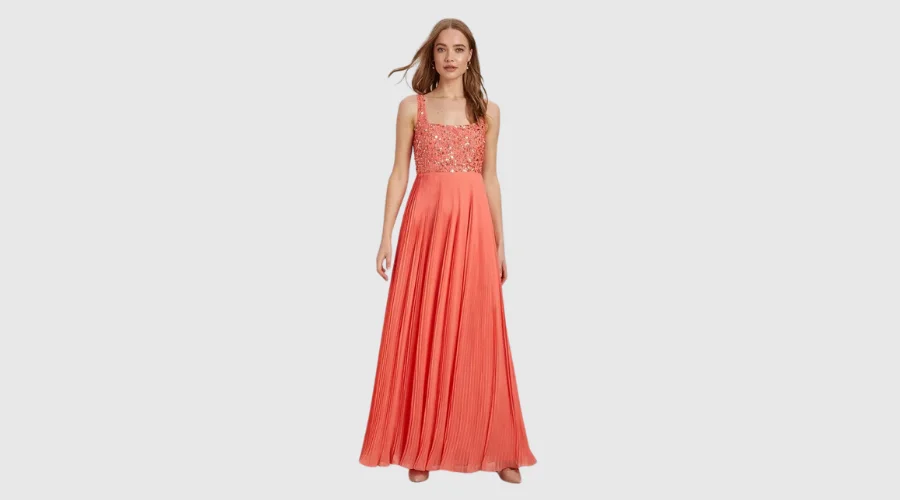 The Square Neck Embellished Pleated Maxi Dress is a captivating choice for bridesmaids looking for a sophisticated and eye-catching ensemble. With its square neckline, the dress exudes modern elegance and beautifully frames the décolletage. The scattered embellishments add a dazzling effect, catching the light and creating a sparkling allure. The pleated details create texture and movement in the shorter length, ensuring a graceful and stylish silhouette for the bridal party. This dress is perfect for formal events, cocktail parties, or any special occasion. The combination of the square neck, embellishments, and pleated design strikes a balance between timeless elegance and contemporary flair. Bridesmaids will feel confident and radiant as they accompany the bride on her special day in the Square Neck Embellished Pleated Maxi Dress.
---
Conclusion
Selecting the perfect bridesmaid dress is a significant decision that contributes to the overall ambiance and style of your wedding. With Dorothy Perkins' impressive collection of bridesmaid dresses, you can effortlessly find a style, color, and fit that will enhance the beauty and confidence of your bridal party. Their commitment to quality, inclusivity, and affordability makes them an excellent choice for brides seeking to elevate their wedding party style. Let Dorothy Perkins be your partner in creating a memorable and stunning wedding day, where your bridesmaids look and feel their absolute best. For more information visit the official website of Thesinstyle.
FAQs