A coffee table is not just a functional piece of furniture; it's also a statement piece that can enhance the style and functionality of your living space. At Conforama, we understand the importance of finding the perfect coffee table that suits your taste and meets your needs. That's why we have curated a collection of top-quality coffee tables that combine design, durability, and versatility. Whether you're looking for a sleek and modern glass coffee table, a rustic wooden coffee table, or a space-saving convertible coffee table, we have you covered. Join us as we explore the top 5 coffee tables available at Conforama, and get ready to elevate the style and functionality of your living room.
Best coffee tables
Rectangular coffee table

Rectangular coffee table | Thesinstyle
Elegant and practical, the SARDAIGNE fixed rectangular coffee table offers a stylish solution for your living room. With its industrial style and trendy wood/black mix, it adds a touch of modernity to any space. Designed to be associated with the TV unit of the same series, this coffee table creates a cohesive and harmonious look in your home. It features several storage niches, providing ample space to keep your living room essentials organized and within reach. The top is made of high-quality particle board with an oak-effect melamine finish, while the black metal base adds a sleek and contemporary touch. Elevate your living room with the SARDAIGNE coffee table and enjoy both style and functionality in one stunning piece.
---
    2. Liftable coffee table
Experience versatility and functionality with the liftable coffee table. This innovative piece of furniture combines style and practicality to elevate your living space. With its rectangular shape and two-tone color scheme, it adds a touch of natural elegance to any interior. The liftable feature allows you to easily adjust the height of the table to your preference, providing convenience whether you're enjoying a cup of coffee or using it as a work surface. The table also features a convenient tray or shelf for storing your essentials, keeping your living room tidy and organized. Designed with functionality in mind, this liftable coffee table is perfect for any low table setting and brings a modern and stylish element to your home decor.
---
    3. Oval coffee table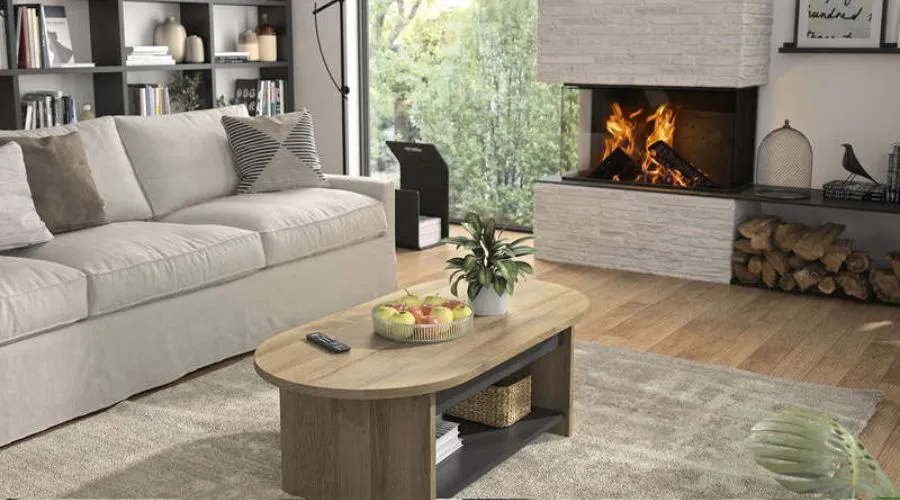 Enhance your living room with the elegant and modern SOHO oval coffee table. Its unique oval shape and wood decor cover exude undeniable charm, making it a focal point in your space. With its trendy industrial style and two-tone color scheme, it perfectly complements modern and warm decor themes. Made in France with high-quality materials, this coffee table is constructed with particleboard covered in decorative paper, ensuring durability and longevity. The rounded edges add a touch of refinement, while the double tray design provides ample storage space for your favorite accessories. Embrace both style and functionality with the SOHO oval coffee table, a perfect addition to any contemporary living room.
---
  4. Elea lift-up coffee table
Add style and functionality to your living room with the Elea lift-up coffee table. Designed with sleek black wood and a beech-style chest, this coffee table is the perfect combination of modern aesthetics and space-saving features. The lifting top allows you to adjust the table's height for comfortable eating or working while sitting on your sofa. With multiple storage spaces, including a concealed compartment under the lift-up top and a 40 cm high side box, you can easily organize and store items such as bottles, snacks, and remote controls. The low lower shelf provides an open space for keeping TV programs and magazines within reach. This coffee table not only enhances the elegance of your living space but also helps maintain a tidy and organized environment. Experience the convenience and style of the Elea lift-up coffee table and enjoy relaxing or working comfortably in your living room.
---
  5. Round coffee table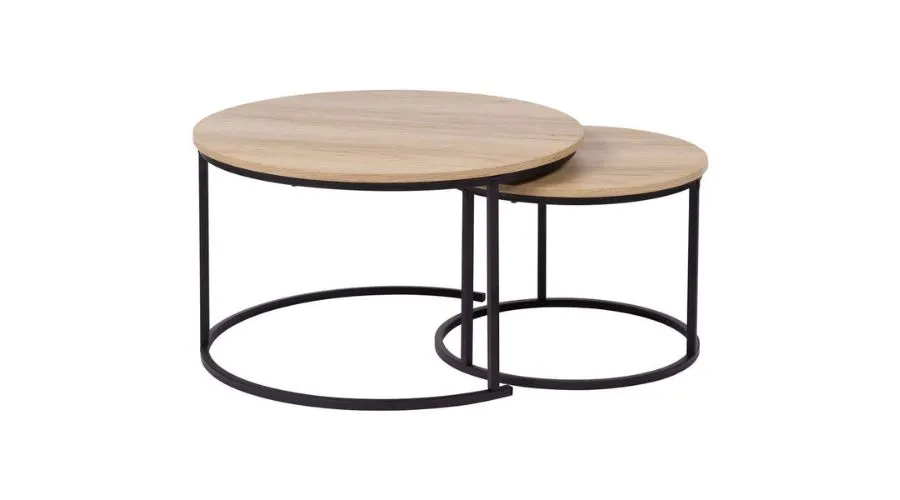 Enhance the style and functionality of your living room with this round coffee table. With its industrial design and clear wood color, it brings a touch of modernity and elegance to any interior. The table features two trays/shelves that provide ample space for storing and displaying your favorite items. Whether you need a place to rest your cup of coffee or a surface for showcasing decorative pieces, this round coffee table has you covered. Its trundle function adds versatility, allowing you to easily move and position the table wherever you need it. Crafted for both practicality and aesthetics, this coffee table is the perfect addition to create a stylish and functional living space.
---
Conclusion
Conforama offers a diverse range of coffee tables that cater to various styles and preferences. From rectangular designs with storage niches to liftable options and oval-shaped tables, there is something to suit every taste and need. Whether you prefer a modern industrial look or a more classic style, these coffee tables provide both functionality and aesthetics. With their innovative features, such as lift-up tops, integrated storage, and elegant finishes, these coffee tables will enhance any living room decor. Conforama's commitment to quality and design ensures that these coffee tables are not only practical but also stylish additions to your home. For more information about low coffee tables or wood coffee tables with storage, visit Conforama and the official website of Thesinstyle.
FAQ's