Discover the top 5 kitchen tables by Conforama, where functionality and style meet to create the perfect centerpiece for your kitchen. The kitchen table serves as a gathering place for family and friends, where meals are enjoyed and memories are shared. With Conforama's commitment to quality and design, we have curated a selection of the finest kitchen tables that cater to different needs and tastes. From compact tables for cozy breakfast nooks to spacious options for entertaining guests, each table offers a unique combination of practicality and aesthetics. Join us as we explore the top 5 kitchen tables by Conforama, and find the ideal table to transform your kitchen into a welcoming and stylish space for culinary adventures and bonding moments.
Best kitchen tables
1. Table 160 cm with extension ASTON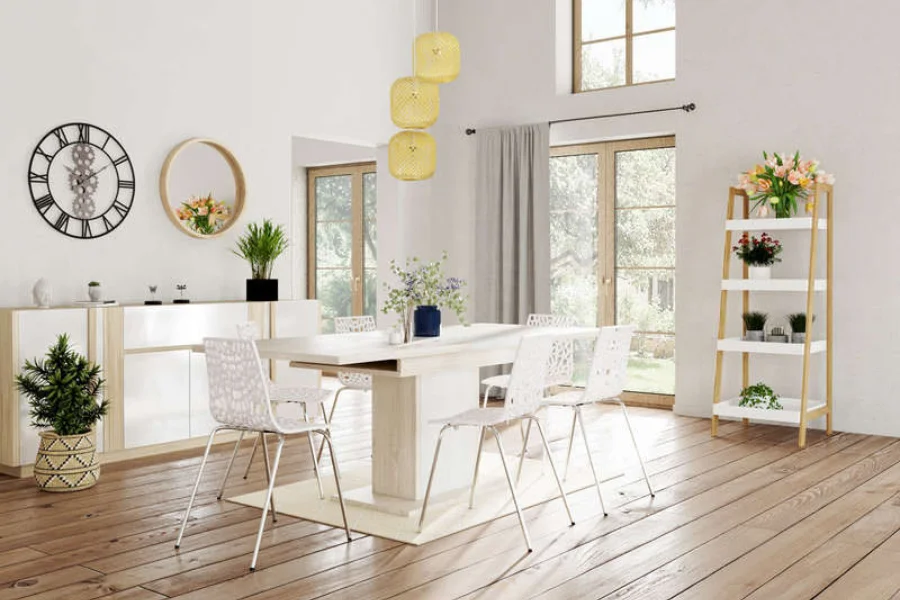 This two-tone rectangular table features a graphic cut-out design that adds a modern touch to your living room. With its wooden-colored top and integrated central extension, it can comfortably accommodate up to 8 people. The table stands on a rectangular central foot and measures up to 208 cm in length when fully extended. Its high gloss lacquer finish enhances its visual appeal, creating a sleek and sophisticated look. Crafted in France, this table offers both style and functionality for your dining space. With dimensions of 90 cm in width, 160 cm in length (extending to 208 cm), and a height of 77 cm, it provides ample surface area for dining and socializing.
---
2. Rectangular table PORTLAND imitation natural oak
This table offers a durable and visually appealing design. The natural oak finish brings a touch of warmth and elegance to your space, creating a cozy and inviting atmosphere. With a rectangular shape and a fixed design, it is perfect for everyday use in your living room or dining area. The PORTLAND table can accommodate up to 6 covers, making it ideal for small gatherings or family meals. Its functional and minimalist design blends seamlessly with various decor styles, enhancing the natural beauty of your home. Manufactured in France, this table is built to last and reflects the craftsmanship and quality associated with French furniture.
---
3. Table 180 cm with extension BELLARIA color white/grey oak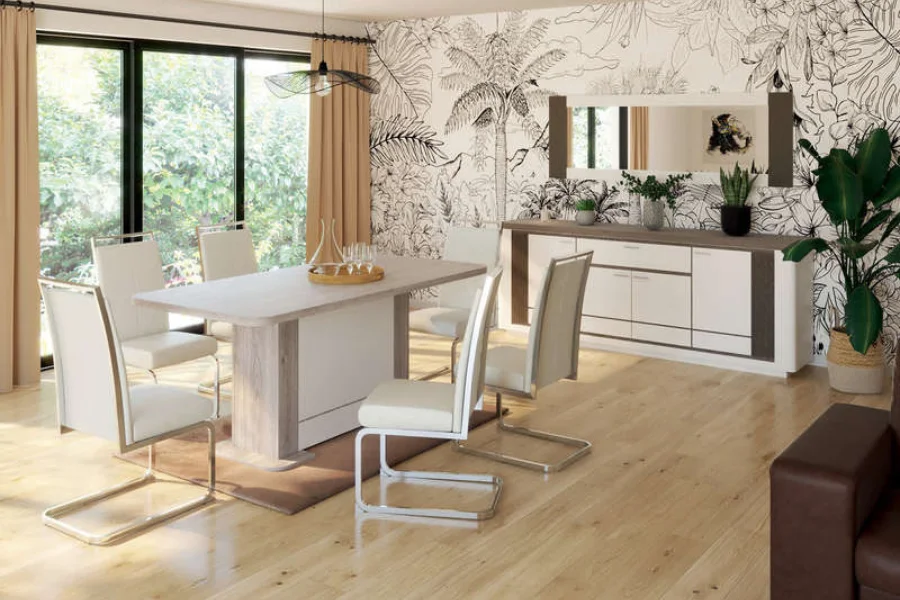 This rectangular table is designed to accommodate up to 8 covers, making it perfect for gatherings and family meals. With its sleek and urban style, it adds a contemporary touch to any interior space. The table features a central extension, allowing you to easily elongate it to create additional seating and surface area when needed. Manufactured in Italy, this table reflects the craftsmanship and quality associated with Italian furniture. It is designed for interior use, making it an ideal choice for your dining room or kitchen. The table comes with a fixed design and does not include casters or drawers, ensuring a clean and streamlined look. Elevate your dining experience and create a stylish and functional space with the Table with Extension, a perfect addition to any modern home.
---
4. Dining table Georgia 6 people imitation beech and black 140 x 90 cm
This dining table is designed to accommodate up to 6 people, making it perfect for hosting gatherings and meals with family and friends. The combination of imitation beech and black finishes adds a modern touch to your interior decor, while the sleek lines and neat finishes create a trendy atmosphere. The central part of the table is made of MDF (particle board) with shiny finishes, giving it a light and elegant effect. The structure of the table, crafted from PB (particleboard panels, 1.5 cm thick), ensures stability and durability. It is supported by four sturdy wooden feet (thickness of 1.5 cm) that provide a solid foundation.
---
5. Rozy dining table 4 people white and gray 110 cm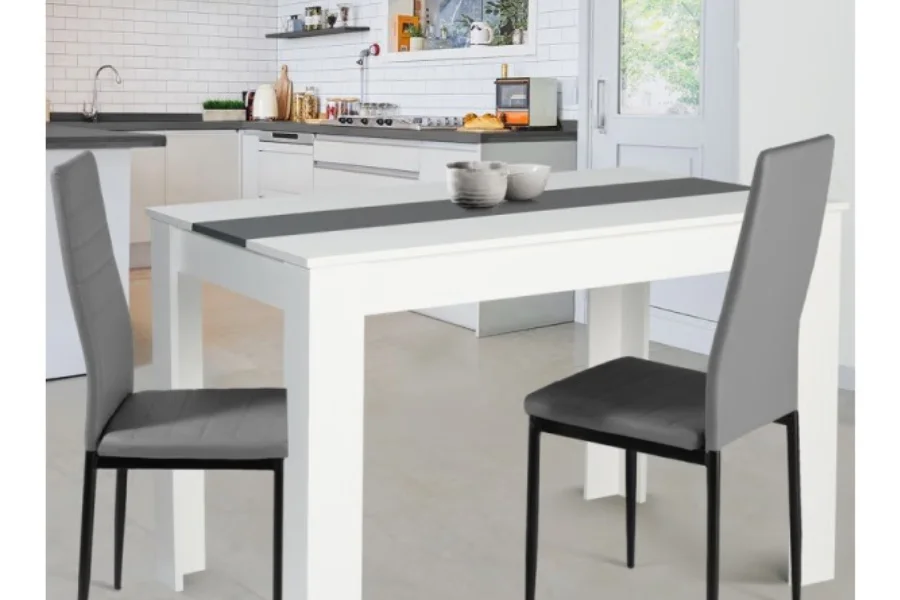 This white and gray dining table is designed to accommodate 4 people, making it ideal for smaller spaces such as living rooms, kitchens, or dining rooms. Its modern and refined design, along with its neat matte finishes, effortlessly blends with your existing furniture. The contrasting colors and clean lines of this table create a trendy atmosphere, adding a touch of elegance to your interior. The gray central part of the table acts like a table runner, eliminating the need for additional decorations or a tablecloth. With its practical dimensions, this table is designed to maximize space utilization without compromising on style. The stable and sturdy structure, made from 1.5 cm thick particle wood panels (PB), ensures durability and longevity.
---
Conclusion
The top 5 kitchen tables offered by Conforama provide a range of options to suit various styles, sizes, and functionalities. From the extendable Table 160 cm with Extension for added flexibility to the sleek and urban style of the Table 180 cm with Extension, each table offers unique features to enhance your kitchen space. The imitation natural oak of the Rectangular Table PORTLAND brings a touch of warmth and versatility, while the high gloss lacquer finish of the Table 140 cm with Extension ASTON adds a contemporary flair. Lastly, the GEORGIA Dining Table combines modern design with neat finishes, while the Rozy Dining Table showcases a trendy style perfect for smaller spaces. For more information visit Conforama and the official website of Thesinstyle.
FAQ's