The quest for efficient storage solutions has led to the evolution of furniture designs, one of which is the drawer storage bed. Combining functionality with style, drawer storage beds have become increasingly popular in modern bedrooms.
A drawer storage bed is a type of bed frame that incorporates built-in drawers within its structure. These double bed with drawers are typically located beneath the mattress, taking advantage of the otherwise unused space under the bed. The bed's design allows for easy access to the storage compartments while maintaining a sleek and seamless appearance.
Space optimization and organization
A. Maximizing Underbed Space
One of the primary advantages of drawer storage beds is their ability to maximize underbed space. By utilizing this often-neglected area, these beds allow for efficient storage of various items, such as clothing, bed linen, blankets, shoes, and personal belongings. This feature is particularly valuable in smaller bedrooms or spaces with limited storage options.
B. Easy Accessibility
The drawer configuration of storage beds enables easy access to stored items. Instead of cumbersome traditional storage solutions, such as large wardrobes or closets, drawer storage beds eliminate the need for excessive bending or reaching. Users can conveniently slide out the drawers and retrieve or store items with minimal effort.
C. Organization and Clutter Reduction
With multiple drawers, drawer storage beds facilitate organization and clutter reduction. By designating specific drawers for different categories of items, such as socks, pajamas, or accessories, users can maintain a neat and organized living space. This systematic approach to storage not only saves time but also enhances the overall aesthetic appeal of the bedroom.
Advantages of Drawer Storage Bed
A. Space-Saving Solution
The drawer storage bed's ability to combine sleeping space with ample storage makes it an ideal solution for bedrooms with limited square footage. By eliminating the need for separate storage units, these beds optimize space usage, allowing for a more open and uncluttered environment.
B. Enhanced Room Organization
Drawer storage beds offer an effective organizational solution, helping users maintain a tidy and well-structured bedroom. By providing dedicated storage compartments, these beds make it easier to locate and access stored items, reducing the likelihood of misplaced belongings and promoting a stress-free living space.
C. Potential Weight Limitations
While drawer storage beds are generally designed to support the weight of a mattress and stored items, it is important to consider the weight limitations of the specific model being considered. 
List of best drawer storage bed on Emma that you must have to try:
1. The Drawer Bed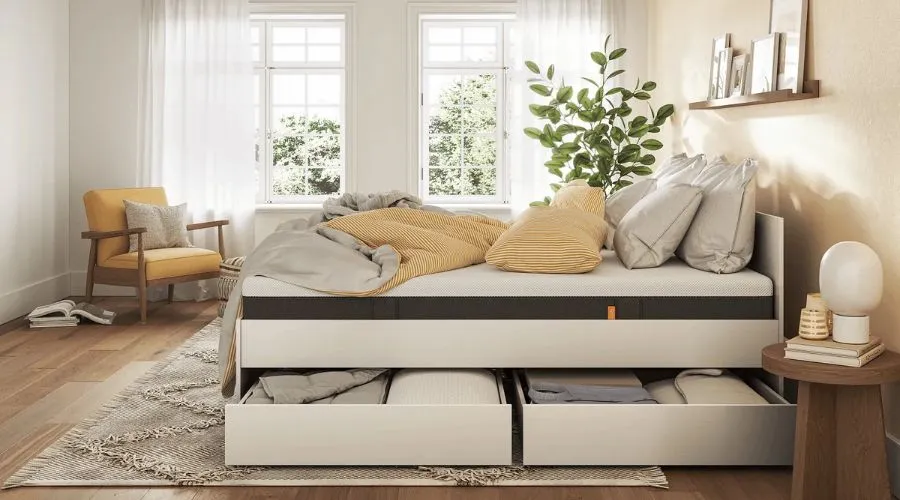 The drawer bed is a cleverly designed bed frame that incorporates storage drawers into its structure, typically located underneath the mattress. These drawers can be seamlessly integrated into the bed frame, maintaining a cohesive aesthetic while maximizing storage capacity. 
The bed's design varies, ranging from simple wooden frames to more elaborate styles with upholstered finishes, allowing homeowners to choose one that suits their personal taste and interior decor.
Space Optimization: The primary advantage of the drawer bed is its ability to optimize space. In smaller apartments or bedrooms, where every inch matters, the storage drawers eliminate the need for additional furniture pieces such as dressers or bedside tables. By utilizing the under-bed space, the drawer bed allows for efficient storage without sacrificing valuable floor area.

Organization and Accessibility: With multiple storage drawers incorporated into the bed, organizing belongings becomes effortless. These drawers offer a convenient solution for stowing away items like extra bedding, seasonal clothing, shoes, books, or even personal belongings. The accessibility of the drawers ensures that essential items are readily available without the need for separate storage locations.

Reduced Clutter: The drawer bed significantly reduces clutter in the bedroom. By providing designated storage spaces, it encourages tidiness and minimizes the accumulation of miscellaneous items on surfaces like the floor or nightstands. The drawers enable users to keep their personal space organized and visually pleasing.

Versatility: The

drawer bed's

versatility is another noteworthy aspect. It is suitable for various living arrangements, including small apartments, children's rooms, guest rooms, or master bedrooms. Its multi-functional design allows it to serve as both a comfortable sleeping surface and a practical storage solution.
Implications and considerations:
Durability and Construction: When investing in a drawer bed, it is essential to consider the durability and construction of the piece. Sturdy materials, such as solid wood or high-quality engineered wood, ensure longevity and reliability. Additionally, the drawer mechanisms should be robust, allowing for smooth opening and closing, as well as the ability to support the weight of the stored items.

Maintenance: Like any other furniture item, drawer beds require regular maintenance. It is important to follow the manufacturer's instructions for cleaning and caring for the bed frame and drawers. Regular dusting, occasional vacuuming, and keeping the drawers organized will help maintain the bed's functionality and appearance.

Customization: Some

drawer bed models

offer customization options, allowing customers to choose the number and size of the drawers. This flexibility ensures that individuals can tailor the bed's storage capacity to their specific needs, making it even more practical and personalized.
---
Conclusion
Many drawer storage beds offer additional features that enhance their versatility. Some models incorporate built-in bookshelves or nightstands, eliminating the need for extra furniture pieces and maximizing functionality. For more information, visit thesinstyle.
FAQ's