Metal bed frames have long been cherished for their durability, style, and versatility. Among the many companies offering exceptional metal bed frames, Emma stands out as a reputable brand known for crafting high-quality sleep solutions.
Emma's metal bed frames exude elegance and timelessness, making them a popular choice for both modern and traditional bedrooms. The brand carefully designs each frame to strike a perfect balance between aesthetics and functionality, resulting in a piece of furniture that enhances the overall bedroom decor while providing reliable support for a comfortable night's sleep.
Features of Emma's metal bed frames
Unparalleled Durability:
One of the key features of Emma's metal bed frames is their outstanding durability. Constructed from high-quality materials, such as steel or iron, these frames are built to withstand the test of time. The sturdy construction ensures that the bed frame remains stable and secure, even after years of use. This longevity offers excellent value for money, making Emma's metal bed frames a wise long-term investment.
Variability in Design:
Emma understands the importance of catering to diverse tastes and room aesthetics. As a result, their metal frame bed collection offers a wide range of design options, ensuring there's a perfect match for every bedroom theme. Whether it's a minimalistic and sleek frame with clean lines or an ornate, vintage-inspired design, Emma's metal bed frames cater to various personal preferences.
Space-Saving Solutions:
For those dealing with limited bedroom space, Emma's metal bed frames offer space-saving solutions without compromising on style or comfort. With options like platform beds or frames equipped with built-in storage, these bed frames optimize room functionality and organization, providing extra space to store essentials conveniently.
Enhanced Mattress Support:
A crucial aspect of any bed frame is its ability to support the mattress adequately. Emma's metal bed frames excel in this regard, as their sturdy design ensures even distribution of weight and minimizes sagging. This feature not only enhances the lifespan of the mattress but also promotes a more comfortable and restful night's sleep.
Easy Assembly and Maintenance:
Emma's metal bed frames are designed with ease of assembly in mind. With clear instructions and all necessary tools included, setting up these frames is a hassle-free process. Additionally, maintaining the metal bed frame is relatively simple, requiring minimal effort to keep it clean and looking pristine.
Eco-Friendly Manufacturing:
As environmentally conscious consumers increasingly seek sustainable products, Emma ensures its metal bed frames are manufactured using eco-friendly practices. The brand prioritizes materials that are recyclable and sources from responsible suppliers, contributing to a greener future.
Here is best metal bed frame on Emma that you must have to try:
1. Metal bed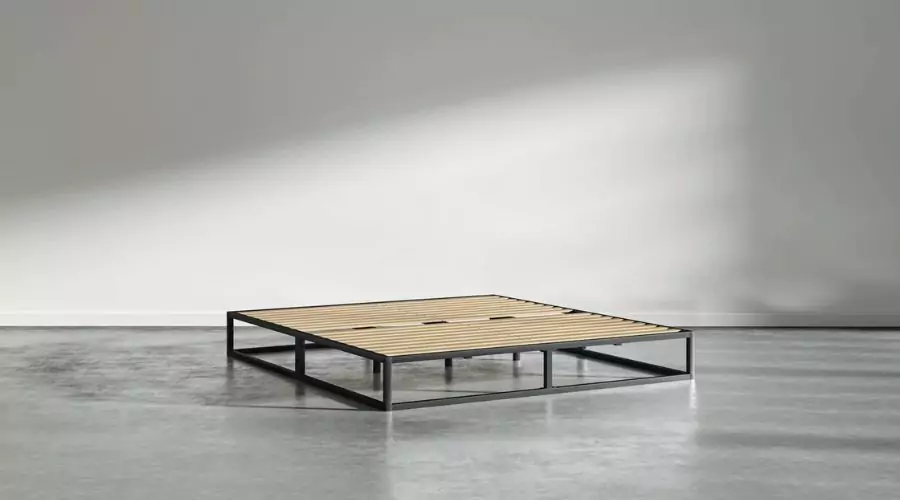 A bed is not merely a piece of furniture; it is a sanctuary where we rejuvenate and find solace after a long day. When it comes to selecting the perfect bed, numerous options are available, but one that stands out for its durability, versatility, and aesthetic appeal is the metal bed. With its robust metal bed frame, this sleep solution has become increasingly popular among homeowners, interior designers, and even in the hospitality industry.
Metal beds are relatively easy to maintain compared to other materials. The metal bed frame can be wiped clean with a damp cloth, and metal beds are less prone to damage from spills or stains. Additionally, metal beds do not attract pests like termites, ensuring long-term hygiene and cleanliness.
Size: When selecting a metal bed, it is crucial to consider the available space in your bedroom and choose the appropriate size. Metal beds are available in standard sizes, including twin, full, queen, and king, ensuring there is an option for every bedroom size.
Mattress Support: The metal bed frame should be compatible with different types of mattresses. It is essential to ensure that the frame's slats or support system are designed to accommodate the type of mattress you prefer, be it a foam mattress, spring mattress, or hybrid mattress.
Noise Reduction: While metal beds are generally sturdy, poor construction or low-quality materials may result in noise issues. It is advisable to choose a metal bed with noise-reducing features, such as rubber caps on the legs or noise-absorbing connectors, to ensure a peaceful and undisturbed sleep.
Conclusion
In conclusion, Emma's metal bed frames exemplify the perfect fusion of style, durability, and functionality. From their timeless designs to their eco-friendly approach, Emma's collection caters to a diverse range of needs and preferences. These metal bed frames offer exceptional mattress support, space-saving solutions, and long-lasting durability, making them a fantastic choice for anyone seeking a reliable and elegant addition to their bedroom. For more information, visit Thesinstyle.
FAQs