Shower time is not just about cleansing the body; it can also be a moment of relaxation and indulgence. One way to elevate your shower experience is by using shower oil. Ritual is a renowned online platform that offers a range of luxurious shower oils designed to nourish and pamper your skin. When it comes to finding the perfect shower oil, Rituals is the ideal destination. The platform offers a diverse range of shower oils to cater to different skin types and scent preferences. Whether you prefer a floral, citrus, or woody fragrance, Rituals has options to satisfy your senses.
Benefits of purchasing Shower Oils on Rituals
Ritual is an esteemed online platform that offers a wide range of luxurious bath and body products, including shower oils. The website provides a user-friendly interface allowing customers to navigate various product categories easily. By simply searching for "shower oil" on the website, you can explore an extensive collection of high-quality options.
Rituals take pride in curating products made from natural and sustainably sourced ingredients. Their shower oils are often enriched with nourishing oils like argan, almond, or coconut oil, which are known for their moisturizing and skin-loving properties. Additionally, Rituals offers a variety of captivating fragrances, ensuring that there is a shower oil to suit every individual's preferences.
Here is a list of the top 5 Shower Oils:
1. The Ritual Of Sakura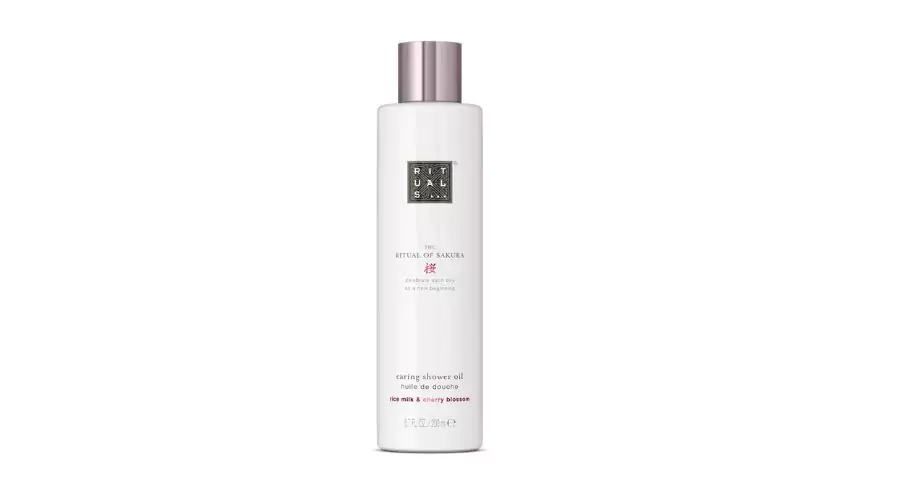 The Ritual of Sakura is a luxurious and enchanting collection of body care products designed to celebrate the beauty and fragility of the cherry blossom, a symbol of renewal and mindfulness. Inspired by the ancient Japanese ritual of Hanami, which involves appreciating the transient beauty of cherry blossoms, this exquisite range indulges your senses and nourishes your skin. Among the delightful products in this collection is the Shower Oil, a true gem for a luxurious bathing experience.
The Ritual of Sakura Shower Oil is a heavenly blend of natural oils and hydrating ingredients that transform your shower into a soothing and aromatic journey. This unique formula, enriched with organic rice milk and cherry blossom extract, lathers up into a rich foam when it comes into contact with water, enveloping your body in a silky soft embrace. The exquisite fragrance of cherry blossom fills the air, transporting you to a serene Japanese garden in full bloom. As you massage the oil onto your skin, it deeply hydrates and nourishes, leaving your skin feeling satin-smooth and moisturized, with a delicate lingering scent of floral bliss.
---
2. The Ritual Of Mehr Shower Oil
The Ritual of Mehr Shower Oil is a truly indulgent and luxurious body shower oil that transforms your bathing experience into a blissful ritual of self-care and relaxation. Infused with nourishing ingredients and a captivating fragrance, this shower oil envelops your skin in a veil of pure luxury, leaving it feeling incredibly soft, supple, and delicately scented.
As you step into the shower and apply The Ritual of Mehr Shower Oil, its silky texture glides effortlessly over your body, creating a sumptuous lather that cleanses and moisturizes simultaneously. The rich formulation of this luxury body shower oil is enhanced with a blend of precious oils, including nourishing argan oil and revitalizing organic white lotus, renowned for its soothing properties. This combination deeply nourishes and hydrates your skin, replenishing its natural moisture barrier and leaving it with a radiant glow.
---
3. The Ritual Of Jing Shower Oil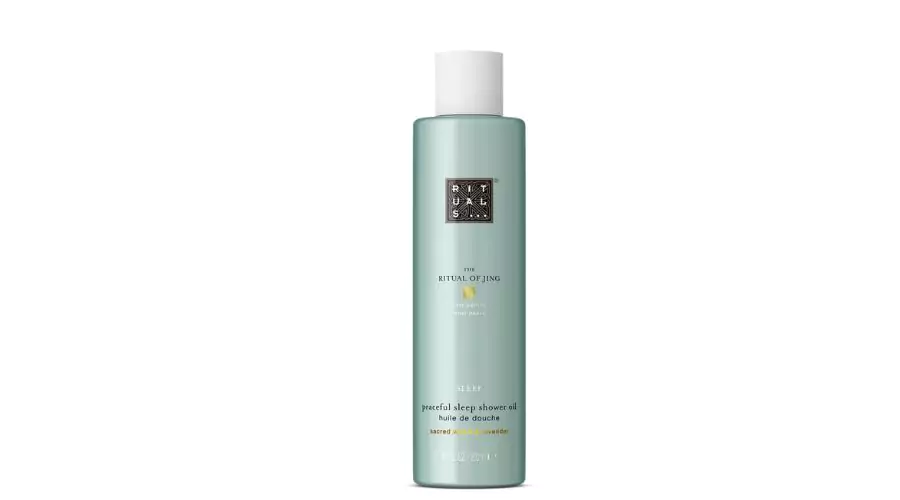 The Ritual Of Jing Shower Oil is a luxurious body shower oil designed to elevate your bathing experience to new levels of indulgence and relaxation. This exquisite shower oil is infused with a blend of natural ingredients carefully selected to nourish and hydrate your skin while captivating your senses. The formula is enriched with the calming properties of Sacred Lotus and Jujube, which help to soothe the mind and promote a sense of tranquillity.
Pamper yourself with the richness of this luxury body shower oil as it transforms into a silky soft foam upon contact with water. Its velvety texture glides effortlessly over your skin, enveloping it in a gentle embrace, leaving it feeling satin-smooth and supple. The delicately scented fragrance of the Shower Oil further enhances the sensory experience, transporting you to a serene oasis of serenity and bliss.
---
4. The Ritual Of Ayurveda
The Ritual of Ayurveda is a luxurious and indulgent collection of body care products inspired by the ancient healing traditions of Ayurveda. This holistic approach to well-being focuses on achieving balance and harmony between the body, mind, and soul. Among the exquisite products in this range is the sought-after Luxury Body Shower Oil, designed to provide a truly pampering and rejuvenating experience.
The Luxury Body Shower Oil from The Ritual of Ayurveda is a sumptuous treat for the senses. Infused with the finest natural ingredients, this opulent oil transforms your shower routine into a luxurious spa-like experience. With each use, the heavenly fragrance of Indian rose and sweet almond oil engulfs you, creating a serene and calming ambience. The nourishing and moisturizing properties of the oil deeply penetrates your skin, leaving it velvety smooth, and supple. As you massage the oil onto your body, it effortlessly melts into a silky foam, enveloping you in pure luxury. The unique formula gently cleanses and hydrates your skin, ensuring a blissful and invigorating shower experience every time.
---
5. The Ritual Of Karma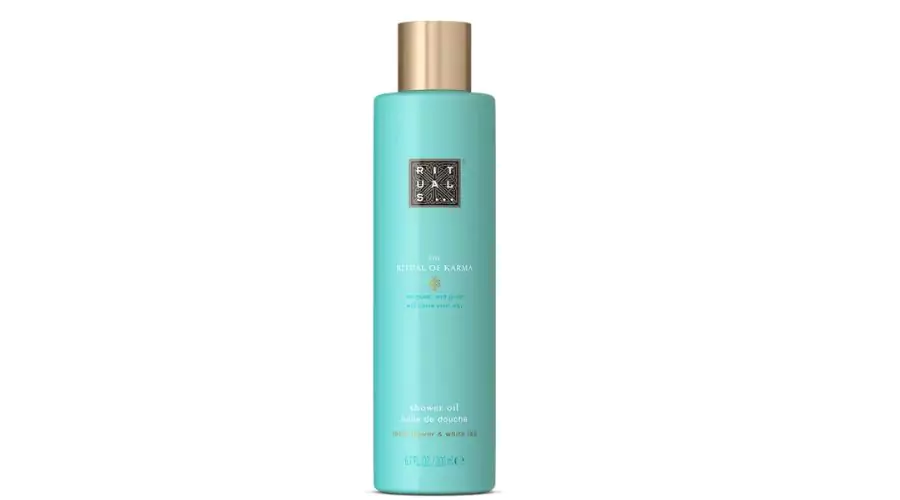 The Ritual of Karma is a renowned collection of luxurious body care products that embodies the philosophy of creating harmony and balance in one's life. This exquisite range enhances your well-being and elevates your daily self-care rituals. At the heart of The Ritual of Karma lies a deep belief in the power of positive energy, encouraging you to embrace the present moment and radiate positivity to the world.
Enriched with nourishing ingredients and infused with a delicate fragrance, this body shower oil envelops your skin in a gentle, cleansing embrace. As you massage it onto your skin, the oil transforms into a luscious, creamy lather, leaving your skin feeling incredibly soft, supple, and moisturized.
---
Conclusion
Using shower oil is a luxurious way to enhance your shower routine and nourish your skin. Rituals offer a wide selection of high-quality shower oils that provide deep hydration, gentle cleansing, and a delightful sensory experience. With their commitment to natural ingredients and sustainability, Rituals is the perfect place to find a shower oil that will elevate your shower time to new levels of indulgence. For more information on shower oils, visit the official website of thesinstyle.
FAQs