Are you always tuned into the fashion world? Does that vibrant and colourful world excite you? If yes, then you must know about NYFW 2023! New York City is gearing up for one of the hottest events of the year – the New York Fashion Week 2023 (NYFW 2023). To outsiders, this might sound like just another catwalk show. But only the people in the fashion industry know how significant this event is. If you are intrigued by New York Fashion Week 2023, then this blog is for you. Join us as share a detailed breakdown of NYFW 2023, covering its significance, dates, schedule highlights, ticket information, and tips for securing an invitation. Let's get this party started!
What is the New York Fashion Week?
New York Fashion Week (NYFW) is a biannual fashion event held in Manhattan. It presents to consumers, the media, and international designers the most recent collections. Along with Paris, London, and Milan, New York Fashion Week is one of the "Big Four" fashion weeks worldwide. The present idea of a consolidated "New York Fashion Week" was introduced by the Council of Fashion Designers of America (CFDA) in 1993.
When is New York Fashion Week 2023?
The dates for Fashion Week New York 2023 are September 7 to September 13. The event is held twice a year, in February and September, and each edition showcases the collections from a new season. Usually, the September presentations showcase spring and summer clothing, while the February exhibits emphasise fall and winter attire.
New York Fashion Week 2023 Tickets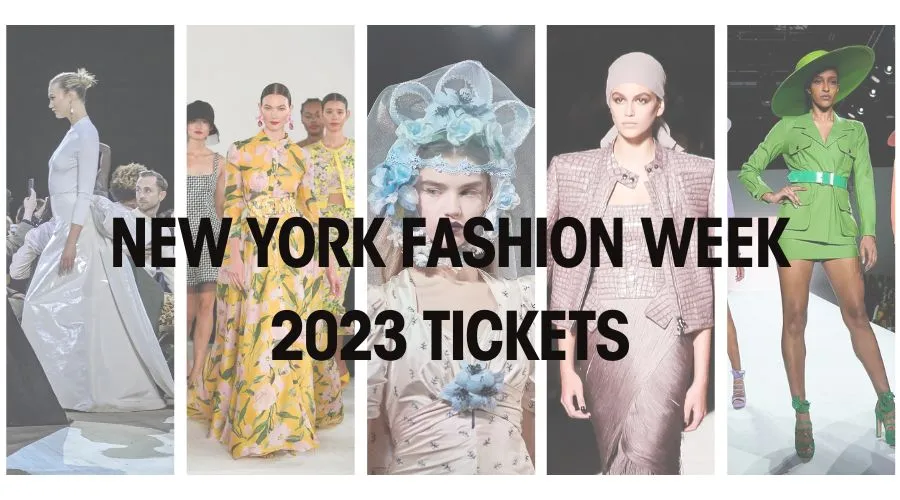 Although getting tickets for New York Fashion Week 2023 can be difficult, there are practical ways to increase your chances of getting them:
Participation in local fashion
Get involved in the neighbourhood fashion scene. Attend mixers, networking events, and other events where you can meet people in the fashion industry. These insiders frequently have significant contacts or desired access to New York Fashion Week 2023 tickets that can help you in your search.
Flexibility is Important
Maintain a flexible schedule. Even though tickets for the main NYC Fashion Week 2023 schedule are in hot demand, think about going to companion events if they fit into your calendar. Outside of the scheduled events, there are occasionally hidden gems that suit your interests.
Beware of Resellers
Use caution while buying tickets from resellers if the legitimate ticketing avenues are unavailable. Prioritise trusted and known resellers, and do extensive research to make sure you stay away from scammers or fake tickets. Your investment must be protected at all costs.
Opportunities to Volunteer
Give your time and expertise to organizations or organizations involved in the New York Fashion Week. Offering your valuable assistance in exchange for entry to New York Fashion Week 2023 events might be gratifying. You can participate in the activity and gain knowledge about the inner workings of the fashion industry.
New York Fashion Week 2023 Schedule Highlights: What's in Store?
The New York Fashion Week schedule for 2023 is jam-packed with exciting activities and shows that guarantee an outstanding experience:
Fashion Shows
Renowned fashion icons like Marc Jacobs, Ralph Lauren, The Blonds, Proenza Schouler, Carolina Herrera, and Michael Kors will headline New York Fashion Week 2023. These icons will appear on stage to present their eagerly awaited collections. The newest designs and trends will take over the runway.
Digital Showcase
Designers are moving their events online to stay up with the rapidly changing digital scene. A variety of virtual experiences will be available during New York Fashion Week 2023, including live feeds of fashion shows, interesting panel discussions with business leaders, and captivating fashion documentaries chosen by top-style influencers. By allowing fashion aficionados from all over the world to take part in the excitement from the comfort of their homes, these digital services hope to attract a larger audience.
Focus on New Designers
While well-known designers get the attention, New York Fashion Week 2023 will also highlight up-and-coming designers who are making their catwalk debut. These young designers are ready to push the limits of innovation and provide a glimpse into the cutting-edge fashion of the future. It serves as a showcase for ground-breaking concepts and creative designs.
Beyond Fashion
The focus of New York Fashion Week extends beyond the catwalk. The event has many facets outside of the catwalk. Press conferences with designers and industry insiders, glamorous parties with entertainment, and unique shopping opportunities are all events that attendees can look forward to. These many events give designers priceless chances to communicate with customers, the media, and the general public, strengthening their bonds with the fashion industry.
---
Also, Read- Exclusive Details Of London Fashion Week 2023: Schedule, Venue, Designers & More
---
Conclusion
NYFW 2023 promises fresh designs, collaborations, and meaningful relationships that will shape the future of fashion. It's more than just clothes; it's a platform for creativity and storytelling, engaging both live and online audiences. NYFW continues to drive innovation and the pursuit of beauty in the fashion world. With just a few hours left in the event going live, we will soon experience all that New York Fashion Week 2023 has to offer. To stay updated on NYFW 2023 and the rest of the fashion world, visit TheSinStyle. 
FAQs