Isla Mujeres (the island of ladies) is a little island located a few miles off Cancun's pristine coastlines. In the state of Quintana Roo, it is one of the most popular vacation spots for beach lovers. You will fall in love with the island whether you stay for a few days or simply stop by for the day. Moreover, the island hasn't lost its original Mexican Caribbean appeal of a small laid-back community despite becoming extremely touristy with infrastructure built to welcome throngs of visitors every day. Owing to its authentic vibes, you will find yourself in the realm of traditional Mexican culture while discovering the top things to do in Isla Mujeres. 
Why Isla Mujeres is a perfect location if you want to know about authentic Mexican Culture?
Isla Mujeres is about 10 kilometres from Cancun's coast and is easily reachable from both Cancun and the Riviera Maya tourist resorts. Being a tranquil and laid-back town, there are plenty of things to do in Isla Mujeres. You can start your day by shopping, snorkelling, exploring, eating the freshest seafood in the Mexican Caribbean, or simply absorbing the magical vibes of Isla Mujeres. 
Discover the true meaning of entertainment at Isla Mujeres
1. Explore the island with a rented Golf Cart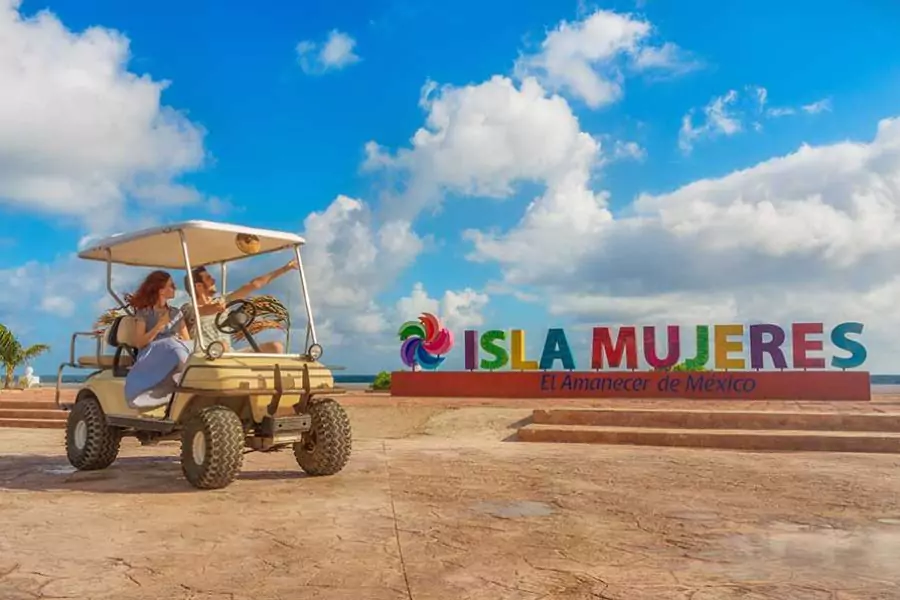 Renting a golf cart and touring Isla Mujeres is one of the best things to do in Isla Mujeres. You can simply rent a golf cart from one of the numerous rental businesses near the ferry dock and walk a short distance to the office to pick up the rented golf cart. It is one of the most affordable ways to get around Isla Mujeres but has one condition that one must have a driving license. 
Each cart can accommodate up to four passengers, or six depending on the cart size. Golf cart rentals typically cost roughly 800 MXN pesos ($40) per day, while some locations also offer half-day or hourly pricing. Those who intend to stay longer might be able to take advantage of additional savings on a weekly or monthly rental cost. Thus, golf carts are a very popular mode of transportation and advance reservations are probably a good idea to explore the best things to do in Isla Mujeres.
---
2. Enjoy aquatic life at La Tortugranja Turtle Farm
A visit to La Tortugranja on Isla Mujeres is an unmissable thing to do in Isla Mujeres if you enjoy aquatic life. Being a government-owned facility, this turtle farm turned sanctuary is devoted to guarding, preserving, and reproducing endangered sea turtles that are typically slaughtered by poachers for their meal. Additionally, the sanctuary aids in the rehabilitation of sick or injured animals and occasionally, you can enjoy dolphin sightings. Dolphins are not hurt during these fun activities and are released back into the wild after the show.
---
3. Visit the Ixcel Temple in Punta Sur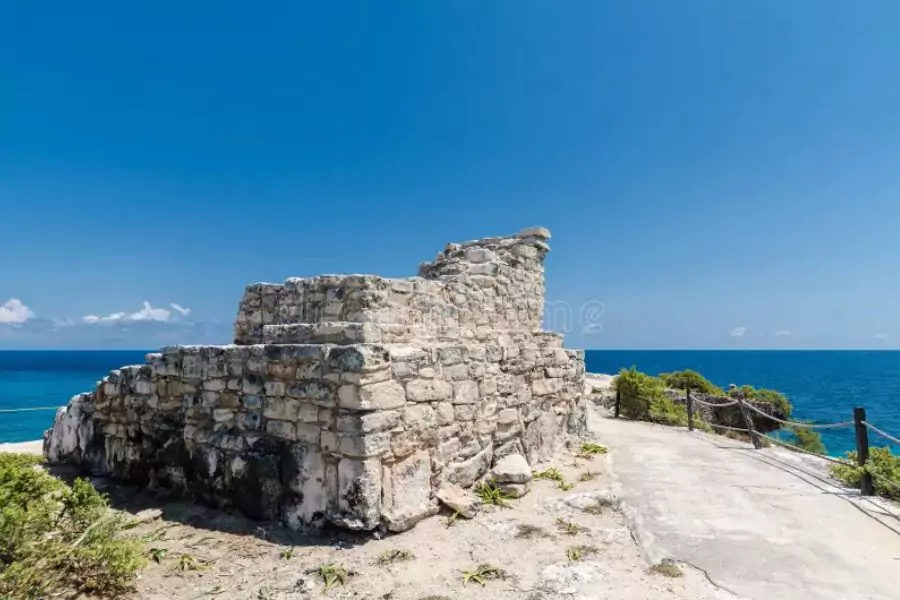 Ixchel Temple is located on the southern edge of Isla Mujeres, in the Punta Sur neighbourhood. It is a place of cultural significance that was initially constructed for the Mayan fertility God Ix Chel. As a result, people continue going to the temple to seek blessings of feminine and healing energy.
The previously mentioned Garrafon Park entry ticket can be used to pay for entrance to the temple. Some of the structures have been partially repaired for visitors to appreciate, despite the fact that the remnants have been harmed by time and the occasional hurricane. Additionally, the nearby Punta Sur lighthouse is a great place to take pictures of your trip to Isla Mujeres.
---
4. Experience a day full of adventure and entertainment at the Garrafon
The Garrafon is a park with fantastic snorkelling places and is located near Punta Sur on the southern side of the island. It offers many other activities as well which primarily include zip lining, riding, and kayaking, as well as delicious food and drinks. The Garrafon Reef Park also provides cultural activities including indigenous peoples' ceremonial use of temezcal pools, also known as prehistoric healing baths. Additionally, the Garrafon is home to the Mayan temple el Templo de Ixchel and the Caribbean settlement el Pueblo Caribbean.
Depending on the activities, you can upgrade to VIP packages for an additional $19 which includes access to the park, the pool, and the buffet.
---
5. Explore the Underwater Museum of Art (MUSA)
The Musea Subatico de Arte (MUSA) is an extremely unique underwater interactive museum. It is located on the coast of Islas Mujeres and can be explored by scuba divers. Here, objects such as cars, hands, and humans can be found along with underwater sculptures. 
Moreover, at MUSA, snorkelling is an additional choice for individuals without a PADI certification. However, those who would rather stay on dry land should not pass up the underwater museum at Isla Mujeres since many of the stone artefacts can be seen through a glass-bottom boat. The cost of diving at the MUSA is roughly $100 while snorkelling costs about $70 and boating excursions cost between $50 and $70.
---
Conclusion
In a nutshell, Isla Mujeres is an excellent destination for endless fun and adventure activities. You can put on a sundress, put the sun hat on top, and stroll through the streets while hopping from one store to another. During your trip, you can also easily shop for souvenirs, handcrafted artefacts, jewellery, wooden boxes, ceramics, and other items. You will find Isla Mujeres to be a treasure trove if you enjoy outdoor activities, water activities, and shopping. With a range of aforementioned things to do in Isla Mujeres, you can have a fun time with your loved ones. For more information, visit Xcaret Global and the official website of Thesinstyle.
FAQ's