When it comes to making the most of your outdoor spaces, Robert Dyas provides an array of sophisticated solutions. In the United Kingdom, this trusted brand has long been known for its top-quality outdoor furniture and hardware supplies. As we step into cooler months, the desire to maintain the inviting ambiance of our patios, gardens, or backyards intensifies. Fortunately, with Robert Dyas' range of outdoor heaters, comfort doesn't have to be sacrificed when temperatures drop.
There is something innately charming about enjoying a crisp evening under a starry sky, surrounded by the gentle warmth of a heater. Picture this: you, with a cup of hot cocoa or a glass of wine, sitting in your backyard, the atmosphere perfectly warmed by a radiant outdoor heater. This could be your reality with the impeccable selection of outdoor heaters available at Robert Dyas. From electric heaters to gas-powered options, Robert Dyas caters to a range of preferences and needs.
In this article, we will explore the top 4 outdoor heaters by Robert Dyas, guiding you through their specifications, key features, and benefits. We aim to help you make an informed choice that aligns with your outdoor heating requirements and lifestyle. Whether you're hosting a grand alfresco dinner or just wish to curl up with a good book on your patio, these heaters promise to keep the cold at bay, ensuring your outdoor experience is nothing short of cozy and delightful. Let's dive in and explore these five gems in the world of outdoor heating.
List of best outdoor heaters to buy from Robert Dyas
1. Pacific Lifestyle Quadrilateral Patio Heater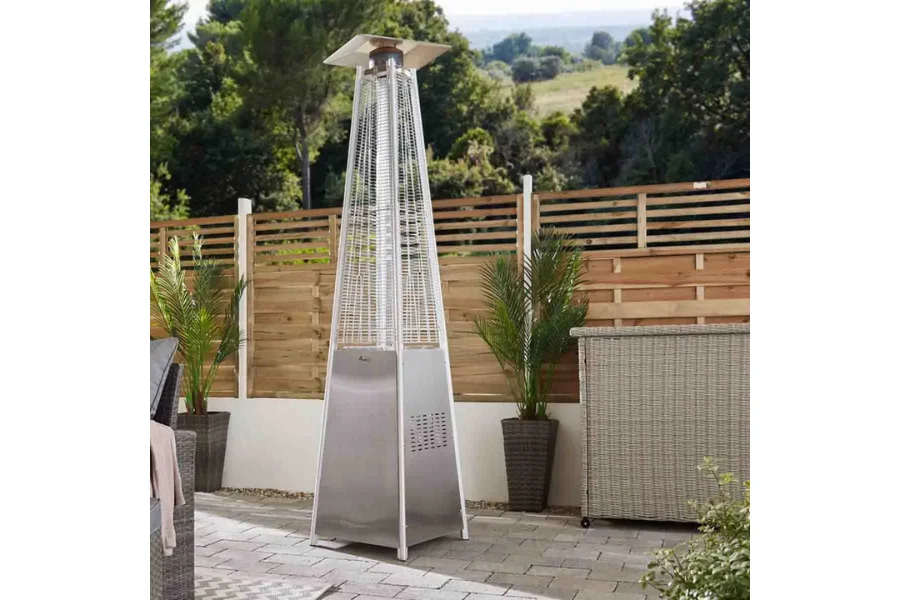 The Pacific Lifestyle Quadrilateral Patio Heater from Robert Dyas is a testament to elegance and durability. This freestanding outdoor heater is ideal for year-round use on patios, decks, or gardens. With borosilicate heating elements, it instantly emits warmth, ensuring comfort in cooler weather. The heater sports an aluminum coating and substantial weight, ensuring stability even during high winds. Its caged design offers protection and longevity. A bonus is the ambient light produced by the heater, creating a warm and inviting space. Made from high-quality steel, it promises years of reliable use. The heater requires self-assembly and comes with a 3-year guarantee.
---
2. Pacific Lifestyle Cylinder Patio Heater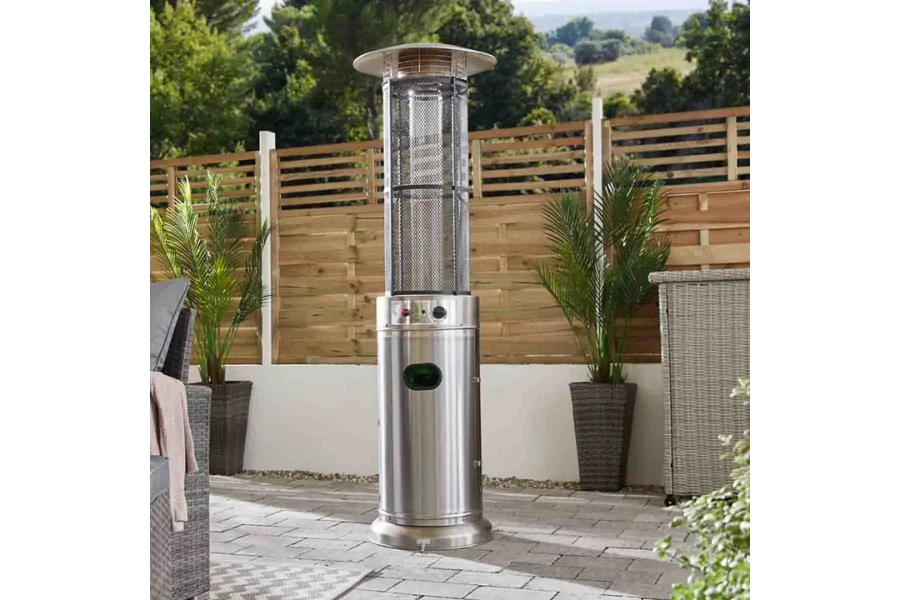 The Pacific Lifestyle Cylinder Patio Heater from Robert Dyas brings an ideal blend of style and safety for your outdoor comfort. This round, freestanding heater is perfect for use throughout the year on patios, decks, or gardens. It features borosilicate heating elements for instant warmth and has an aluminum coating with substantial weight to secure it in high winds. Its caged design ensures safety, adding to its overall durability. This heater not only provides warmth but also ambient lighting for a cozy garden atmosphere. Made from high-quality steel, it's built to last and comes with a 3-year guarantee. Self-assembly is required.
---
3. Outsunny Gas Patio Heater with Tip-over Protection – Brown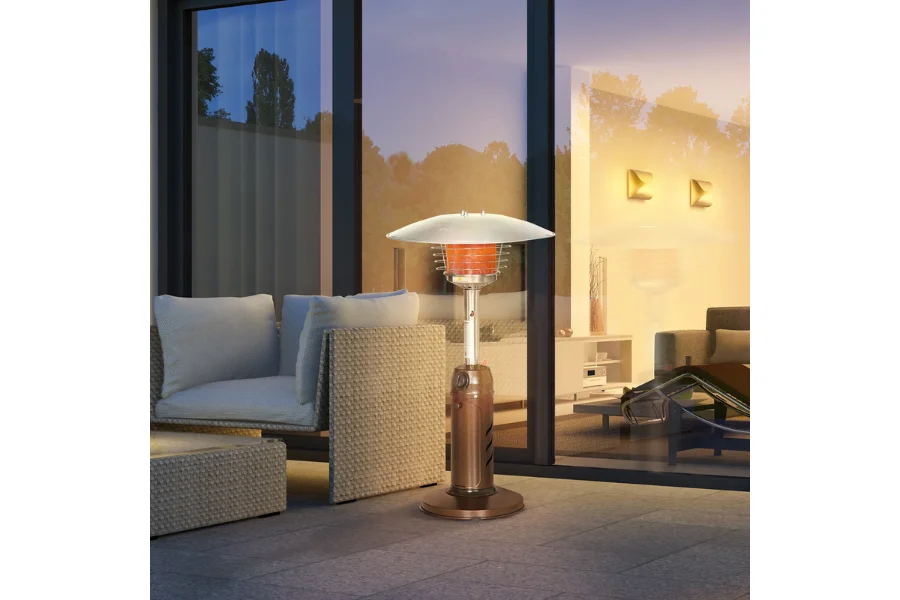 The Outsunny Gas Patio Heater with Tip-over Protection combines warmth, safety, and minimalistic design for your outdoor experiences. Crafted with a simplistic design, this standalone heater seamlessly blends with outdoor decor. It is versatile, and capable of fitting either large or small 1 lb gas tanks, making it suitable not just for your home garden but also for outdoor activities such as camping or RV trips. The heater includes a regulator and hose for an external gas tank, but it can also house a small gas tank inside. The top reflector ensures efficient heat coverage within a one-meter radius. You can easily light it with the piezo ignition and adjust the fire with a control knob. Most importantly, it comes with a built-in sensor for tip-over protection, reducing fire hazards by shutting off automatically if tipped over at a 45-degree angle. Crafted from Aluminium, 304 Stainless Steel, and Metal, it's a durable and reliable choice for your outdoor heating needs.
---
4. Shadow Parasol 3Kw Remote Heater 
The Shadow Parasol 3Kw Remote Heater provides a unique and efficient way to heat your outdoor spaces. This pole-mounted heater can be securely clamped to outdoor parasols (30 mm-55 mm) within seconds, making it perfect for both commercial and residential use. Whether it's a beer garden or a home patio, this heater enhances your outdoor dining experience. It comes with three individual remote-controlled heating elements that emit up to 3kW of infrared ultra-low glare heat and can rotate to distribute warmth effectively across your space. The heater uses short-wave infrared heat, which directly warms people and objects, unaffected by wind gusts or ambient temperature. Its soft-start function ensures maximum heat output within a second, safeguarding against circuit surges. Each lamp can be individually controlled, offering efficient heating as per requirement. The heater is fully waterproof (IPX5), comes in a sleek black color, and requires batteries for operation. It's covered by a 1-year guarantee, adding to its appeal.
---
Conclusion
these top 4 outdoor heaters by Robert Dyas offer a range of styles, features, and functionalities designed to cater to different outdoor heating needs. Each has unique attributes, from the elegantly freestanding Pacific Lifestyle Quadrilateral and Cylinder Patio Heaters to the Outsunny Gas Patio Heater with its tip-over protection and versatile gas tank accommodations, and finally the innovative pole-mounted Shadow Parasol 3Kw Remote Heater with its efficient infrared heating and waterproof design. These heaters not only provide warmth to make your outdoor spaces comfortable throughout the year, but they also add a stylish element to your patio, garden, or any other outdoor area. Whether it's for a home garden, an alfresco dining experience, or even an outdoor adventure, these heaters ensure a warm and inviting atmosphere. For more information about outdoor electric heaters or outdoor gas heaters visit the official website of Thesinstyle.
FAQs